PESHAWAR -- A mobile app launched earlier this year by the Peshawar Police is helping residents connect with the force and to provide tips and report crimes throughout the city.
The Peshawar Police app, launched in March, can be downloaded on the Google Play Store and allows users to quickly report criminal activity and provide location information.
The new application has made police more accessible to the public, said Khyber Pakhtunkhwa (KP) Police spokesman Waqar Ahmad.
"The Peshawar Police force was approached with 2,363 alerts either seeking help or providing information within a few weeks after the launch of the application," he told Pakistan Forward in May.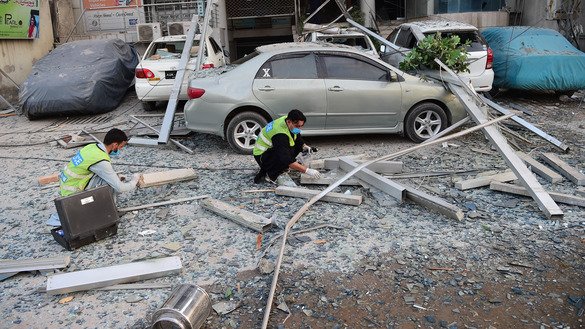 The number of users installing the app is increasing by the day, he said.
"Out of the 2,363 complaints, [we took] quick action on 2,337, while [we are checking] 26 other complaints," he said, adding that complaints came from all districts of KP, other provinces and even abroad.
Police officers at local stations and on Peshawar's City Patrol Force can immediately locate anyone seeking help via Google Maps, allowing them to quickly respond, according to Ahmad.
Plans are in motion to introduce the app to other KP districts as a result of its success in Peshawar, he said.
Just 1 click away
KP Inspector General of Police Salahuddin Khan Mehsud inaugurated the app during a ceremony at the Malik Saad Shaheed Police Lines on March 22.
The new app is another step aimed at raising the level of trust between the police and the public, he said.
"The police force has taken a number of initiatives over the past four years to make sure that anyone can instantly report any complaint and information or access senior officers without any hindrance," Mehsud said.
Police have been utlilising the latest technology to verify vehicles and individuals' identities as well as for geo-tagging and other purposes. The latest digital laboratories have also been set up to expedite various investigations, he said.
"The application was launched for the general public so that it can approach senior police officers with just a single click on its phones for any complaints or tips," Capital City Police Officer Qazi Jamil ur Rehman told Pakistan Forward.
Rehman said that he and other senior officers regularly check the complaints received via the app, their mobile phones and social media in order to respond immediately.
"Anyone with an android phone can install the application to inform police about any crime, terrorism and suspicious movements by people or to seek help from the force in no time," said Deputy Inspector General of Police Mohammad Tahir.
The KP Police are introducing technology to stop crime and terrorism and provide quick and easy access to the public, he told Pakistan Forward.
"The crime rate in Peshawar and other districts has dropped significantly over the past few years because of the use of technology and introduction of new ideas," Tahir said.
A responsive police force
Peshawar residents have expressed satisfaction with the app.
"The service is really doing well as [civilians] now can easily share information, register a complaint or report any crime to top police officials," Mohammad Ali, a 32-year-old private school teacher in Peshawar, told Pakistan Forward.
Access to senior police officials has become easier over the past few years, he said. In the past, it was hard for citizens to approach such high level police officers.
Nauman Ahmad, a resident of Hayatabad, told Pakistan Forward about an incident in which he reported individuals shooting in the air on his street.
"I sent a message on the application and also sent a text to a senior police officer on the cellphone number he made public in May," Ahmad said, adding that the police quickly responded to stop the firing and take action against those involved.
"These are the small things that can help curb many crimes through quick response by police informed by the public," he said.
Shabbir Khan, another Peshawar resident, told Pakistan Forward he has downloaded the application but has not yet had occasion to use it.
"A few years ago, residents had no access to even junior officers, but now you can directly connect to the senior-most policemen for any need," he said.