ISLAMABAD -- Lawmakers and observers in Pakistan have raised concerns about banned organisations potentially taking part in upcoming general elections and are demanding measures to prevent them from doing so.
Pakistan will hold general elections on July 25.
The Milli Muslim League (MML), a political party created last year by Hafiz Saeed's Jamaat-ud-Dawa (JuD) -- the charity wing of militant group Lashkar-e-Taiba (LeT) -- is particularly concerning. Saeed is a prime suspect in the 2008 Mumbai attacks.
The United States declared the MML a terrorist organisation in April, and the Election Commission of Pakistan (ECP) refused to register it as an official political party last October -- a decision the group is trying to contest in court.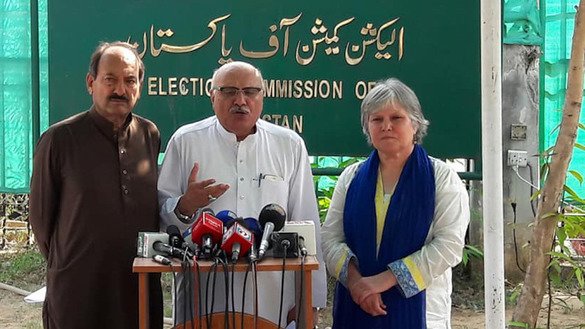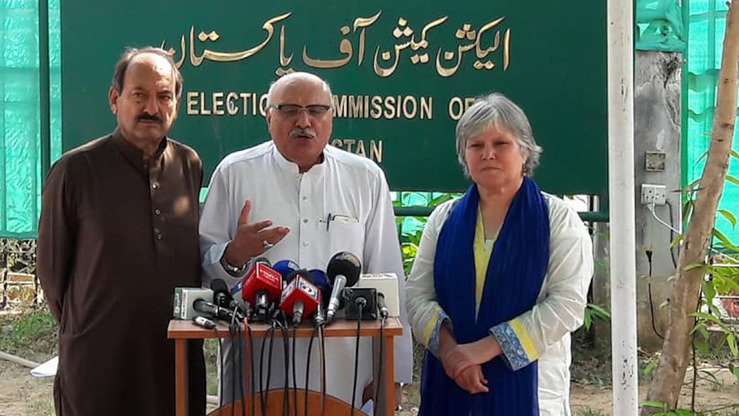 Presently, the MML is still not registered as a party. The ECP forwarded the MML's case to the Interior Ministry for consideration.
"The participation of banned terror groups in the election is against the National Action Plan 2014, which has strongly recommended that these groups not be allowed to take part in the election," said Awami National Party (ANP) General Secretary Mian Iftikhar Hussain.
Iftikhar led a party delegation in a meeting with ECP officials May 31 and informed them of the ANP's grievances over the alleged participation of terror outfits in the upcoming polls.
"The banned terror-linked groups shouldn't be allowed to send their representatives to the national and provincial assemblies," he told Pakistan Forward. "We must prevent them ... from obtaining representation in the assemblies, which are responsible for making laws."
The participation of such parties would undermine the election process and terrorists could become lawmakers, he said.
MML is a front for the LeT terror group and should not be allowed to run, said Khadim Hussain, a Peshawar-based security analyst.
It would be a grave matter if those with a record of links to terror groups could contest polls, he told Pakistan Forward.
"In the past few years, we have seen that some parties with new names are fielding their candidates in by-elections and winning a sizable number of votes," he said.
Power through violence
The demand by political parties to ban Islamist terror organisations from the election process is justified, said Ziaullah Shah, a political scientist at Abdul Wali Khan University Mardan.
Pakistan is home to dozens of groups that oppose elections and favour gaining power by force, he told Pakistan Forward. They circumvent government bans on their activities by seeking political power under different names.
"During the 2013 general election, it was not possible for many political parties to campaign freely," Shah said, referring to the risks of assassination and bombing.
Tehreek-e-Taliban Pakistan (TTP) and other militant groups have been responsible for bringing violence to the political process, including targeting ANP lawmakers, he said.
"The party has lost 800 of its members to bombings and targeted killings by the outlawed TTP [since 2003]," Shah said. "The ANP did not campaign in the past polls because the public was reluctant to attend its rallies for fear of attacks."
Pakistan Tehreek-e-Insaf (PTI) also has suffered at the hands of terrorists and wants to keep them away from the polls, party spokesman Shaukat Yousafzai told Pakistan Forward.
Militants killed four PTI lawmakers in Khyber Pakhtunkhwa between 2013-2016, including a PTI provincial law minister in 2013.
"Allowing someone with terrorist tendencies to participate in elections will make the whole process a futile exercise as the democratic elements won't feel secure," he said.
Militants reject democracy
The message of terror groups is loud and clear, said Brig. (ret.) Mehmood Shah, a Peshawar-based security analyst and former security secretary for the Federally Administered Tribal Areas.
"They want the public to reject democracy and support their agenda of fear and violence," he told Pakistan Forward.
If such politicians are not thwarted before the election, they could pave the way for laws undermining democracy, Shah said.
It is a welcome sign that political parties have noticed terrorists' efforts to participate in the polls and are working to stop them, he said.