PESHAWAR -- Pakistan has ramped up security arrangements across the country to ensure a peaceful Ramadan.
In Khyber Pakhtunkhwa (KP), police are concentrating their efforts at trade centres and other crowded public places and during iftar and prayer times.
KP Inspector General of Police (IGP) Salahuddin Khan Mehsud in a circular May 17 directed all regional police officers and district police officers to maintain law and order and to preempt or thwart any kind of terrorist threat.
Police received orders to take special measures to secure important national installations, places of worship, markets, banks, hospitals, petrol stations, railway stations, airports and other potential targets.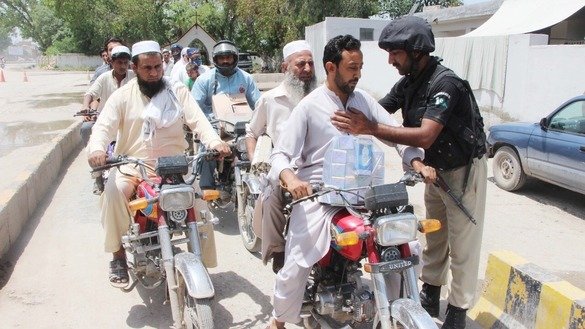 Authorities are enforcing a complete ban on brandishing and displaying of all kinds of guns and other weapons during the holy month, Waqar Ahmad, spokesman for KP Police, told Pakistan Forward.
Apart from regular police, the Rapid Response Force and the City Patrol Force will deploy across Peshawar and other districts during peak hours, Ahmad said.
"In Peshawar, four armoured personnel carriers along with 30 [squad cars] and 30 [bicycle] squads have been deployed for round-the-clock patrols to maintain law and order and keep a check on any suspicious movement," Capital City Police Officer Qazi Jamil ur Rehman told Pakistan Forward.
Some 1,566 police officers have been deployed to maintain security at 783 mosques in sensitive areas of Peshawar, he said, adding that in total, 3,372 police personnel will be on duty during Ramadan.
"Policemen in [civilian clothes] have been deployed at crowded places, while policewomen have been deployed at trade centres, where more women come for shopping," he said.
Security in Punjab, Sindh and Balochistan
Police in Punjab and Sindh provinces also upgraded security measures during Ramadan.
Sindh Police IGP A. D. Khawaja said 55,700 police officers will be deployed.
"Of these, 26,780 police personnel will perform security duties at nearly 4,215 mosques and places for taraweeh and mehfil-e-shabina across Karachi," he told meeting of police officers on May 14.
Security was upgraded in Quetta and other parts of Balochistan Province, with on-alert forces already counting successes.
On the first day of Ramadan, Pakistani security forces killed at least three terrorists in fierce gun battles in the suburbs of Quetta, including Salman Badeni, head of Lashkar-e-Jhangvi in Balochistan.
The same day, security forces foiled a major terrorist attack on the paramilitary Frontier Corps in Quetta, killing at least five would-be suicide bombers.