QUETTA -- Security forces Thursday (May 17) foiled a major terrorist attack on the paramilitary Frontier Corps (FC) in Quetta, killing at least five would-be suicide bombers, officials said.
"The [militants] attacked the Frontier Corps headquarters in the Chiltan Housing Scheme area of Quetta and detonated an explosive-laden vehicle at the entrance gate," Balochistan Home Minister Mir Sarfraz Bugti told Pakistan Forward. "All attackers were killed in an intense exchange of fire."
"The terrorists killed ... were in Pakistani army uniforms, and their target was security officials at sector headquarters," he said.
A motorway police assistant patrol officer was killed while at least four FC personnel suffered bullet wounds, according to Bugti.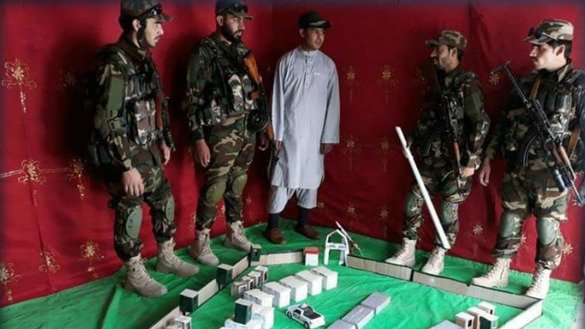 "Security forces have cleared the compound, and the situation is under control," he said.
Attack 'retaliation' for killed militants
The battle came just hours after a suicide bomber blew himself up near an FC convoy in Nowshera, wounding 10 people, AFP reported.
The two attacks on the FC came after Pakistani forces killed Salman Badeni, the head of Lashkar-e-Jhangvi (LeJ) in Balochistan, on the outskirts of Quetta. Two would-be suicide bombers were killed along with Badeni.
"This failed attack [on FC headquarters] was retaliation for the killing of those suspects ... in an intelligence-based operation May 17 in the Killi Almas area of Quetta," Bugti said, referring to the deaths of Badeni and his two confederates.
Officials said they were investigating the legitimacy of the claim that Tehreek-e-Taliban Pakistan (TTP) Dara Adamkhel faction carried out the FC headquarters attack.
High alert
"Investigation teams have gathered all the evidence from the scene," Deputy Inspector General of Police (IGP) Balochistan Abdul Razzaq Cheema told Pakistan Forward, adding that a Punjab lab will test samples of the militants' DNA.
After the spate of violence, Balochistan security authorities put all key government buildings and sensitive areas on high alert, he said.
"We are in a war-like situation, and the government is utilising all available resources for peace and stability," Cheema said. "The anti-peace groups want to create an anarchic situation in Balochistan by attacking security forces."
Search operations are under way to root out militants from the provincial capital, he said.
Late May 17, Balochistan Chief Minister Abdul Quddus Bizenjo chaired a high-level law and order meeting in Quetta, attended by a number of top security and intelligence officials.
He announced Rs. 1 million ($8,635) in rewards for the FC personnel who thwarted the attack on their headquarters.