PESHAWAR -- Pakistan's ongoing de-radicalisation efforts are turning thousands of former militants away from extremism and giving them a new chance at life.
Authorities April 16 awarded certificates to a group of 135 former militants for undergoing a de-radicalisation programme at the Ojala Centre in the Makeen area of South Waziristan Agency, Dawn reported.
So far, 473 former militants have renounced extremism after participating in the de-radicalisation training at the centre, Frontier Corps Inspector General Maj. Gen. Abid Latif said at the ceremony at Ojala.
'I will work for peace'
One of the former militants, Javid Shah, 15, said that he had been ready to blow himself up as a suicide bomber when he and dozens of others were captured by the Pakistani army in 2014.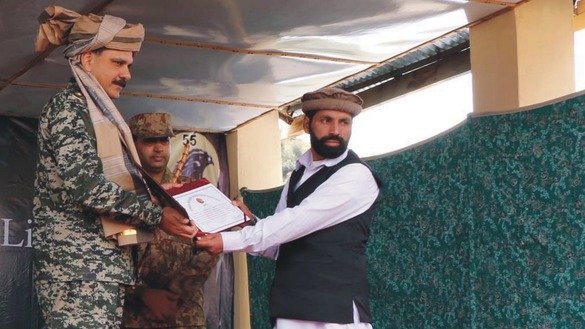 "I will never consider reverting to militancy and will work for peace," he told Pakistan Forward by phone. "I have now learned [how to tailor clothes] and will open a shop in the market very soon."
Majeed Khan, 14, another participant in the de-radicalisation training, said he was repentant for the year that he spent with the Taliban.
"I am thankful to the army for changing my life," he told Pakistan Forward. "Taliban militants are the enemy of humanity and need no mercy."
Khan said he had been indoctrinated to believe that fighting the military was his Islamic duty.
"We appreciate the army for saving the future of youngsters who had strayed," he said.
Producing 'useful' members of society
During Operation Rah-e-Rast, launched in May 2009 in Swat, Pakistani security forces discovered that many of the militants captured during the operation were teens or pre-teens.
This finding prompted security forces to launch a rehabilitation programme in September 2009, according to Fariha Paracha, a psychologist who led the effort in Swat.
"The army invited me to devise a de-radicalisation programme using therapy and education to reverse extremism and violent tendencies in young militant fighters," she told Pakistan Forward.
"Since then, we have de-radicalised 2,000 militants who have now become useful citizens of society," she said. "We have given them vocational and other trainings to enable them to support themselves and to avoid returning to extremism."
"The de-radicalisation programme has proved to be a blessing for young militants, many of whom joined the banned Tehreek-e-Taliban Pakistan (TTP) under duress," she said.
Reintegrating 'brainwashed' youth
Shafique Ahmed, a psychiatrist who works at the Sabaoon rehabilitation centre in Swat, said that 192 former militants underwent training at his facility and were reintegrated into their communities.
Militant recruiters targeted youth who came from from poor socio-economic backgrounds, were orphans or isolated from their families and communities, or attended militant-organised schools, he said.
Militants forced some to join armed campaigns while browbeating others with lectures containing incomplete Koranic verses to dupe them into perpetrating violence against "enemies" of Islam, Ahmed said.
"The young militants were brainwashed and traumatised and required a compassionate approach to change their hearts and minds and give them alternative goals in life," he told Pakistan Forward.
None of the youth who rejoined their communities from Sabaoon have returned to radicalism or the Taliban, Ahmed said. However, he cautioned, they require continued monitoring, support from their communities and police protection from the Taliban.
"De-radicalisation is a multi-pronged approach, the results of which are very positive," he said.
Paving the way for peace
"De-radicalisation is the best option to do away with religious or ideological terrorism permanently and to pave the way for lasting peace in society," Mian Iftikhar Hussain, a Peshawar-based psychiatrist, told Pakistan Forward.
The de-radicalisation of minds fraught with violence, alongside lessons and other methods employed to end terrorism, is a very important part of the transition from violence to peace, he said.
"We are seeking to prevent anti-peace elements from slipping back and taking up arms in pursuit of the faulty agendas ingrained into their brains," he said, adding that non-military strategies, such as psychological counselling, coaching and community support, play a vital part in reintegrating former militants.