PESHAWAR -- The Khyber Pakhtunkhwa (KP) cabinet has approved a draft bill making corporal punishment illegal in public and private schools.
Authorities made the decision during a cabinet meeting April 11 chaired by KP Chief Minister Pervez Khattak.
The bill awaits further action and a vote in the KP Assembly.
"There was no law prohibiting the inhumane practice of corporal punishment against children, and in most cases parents had no other option except to approach the courts," KP Minister for Higher Education Mushtaq Ghani told Pakistan Forward April 15.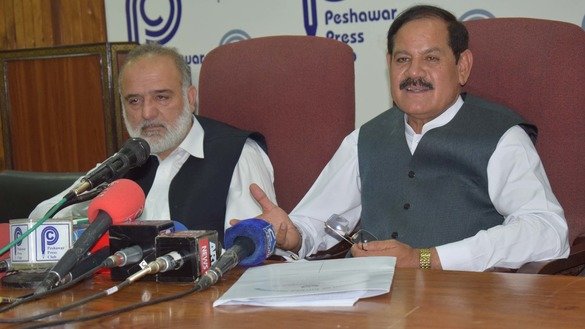 "The absence of a law forced aggrieved parents to resort to legal battles for the proper consideration of complaints," he said.
The Peshawar High Court has directed the KP government to carry out the appropriate legislation and enforcement, Ghani said, adding that the move came after various complaints of inappropriate and cruel punishments of schoolchildren.
"The act will be applicable to both private and government-run schools, and those who violate the law will be given [a maximum of] six months' incarceration and a fine of Rs. 50,000 ($450)," he said.
Ghani expressed hope that the act would curb corporal punishment and encourage students who faced such abuse to return to school, increasing enrollment in KP schools.
Improving teachers' skills
"Beatings and [other] corporal punishment in schools are carried out under the pretext of maintaining discipline and improving performance of students by teachers and administrative staff who are under pressure to improve the productivity of the institution," Ehsan Ullah Shah, a teacher at Government High School Gunj Gate Peshawar, told Pakistan Forward.
"Efforts by the KP government to end physical punishment will produce far reaching effects, attracting children who have dropped out of schools and providing them a fear-free environment to learn," he said.
To further increase the effectiveness of the law, teachers should be properly taught that beatings harm the minds of children, Shah suggested.
"KP teachers recently received training titled 'Teacher as Therapist' that totally changed my perspective towards my students," he said, adding that the fear of fines and imprisonment will stop those who otherwise would retain corporal punishment.
The proper training of teachers will give them the skills needed to deal with students on a case-by-case basis without harsh measures, helping to end corporal punishment in schools, said Rasheed Khan, an English language teacher at Government High School Gulshan Rehman Colony Peshawar.
"There is no doubt the endeavours of the government reflect the seriousness of the authorities -- that is worth praising," he told Pakistan Forward. "But results can be further increased if teachers are taught to treat students as their children, not as enemies."
Most teachers are against using corporal punishment, but a few consider it the only way to deal with insolent students, according to Khan.
The new legislation will force those teachers to "do away with their old habits and treat children with love and affection", he said.
Learning without fear
"I told my father I would quit my studies after I was beaten by a teacher for talking to my classmates in class," said Ahsan Iqbal, a 7th-grade student in Peshawar.
"The very next day it was difficult for me to proceed to school, but I had no other option than to pray," he told Pakistan Forward. "After endless begging and telling my father of the punishment inflicted at school, he agreed to shift me to another school."
"I think that corporal punishment in schools should be stopped," he continued. "Measures should be taken to ensure a duress-free and congenial environment that lets students concentrate on their studies without any fear or coercion," he said.
"The fragile mentality and psychological status of children demand that they should be treated accordingly in their schools," said Iqbal Bacha, Ahsan's father and a clerk at the KP Assembly.
"Corporal punishment is common in government schools, where the majority of children are from the lower middle class and lack resources [that would allow] their parents to lodge complaints and find legal recourse," he told Pakistan Forward.
"Parents whose children are victims of abuse and harsh treatment are praising the government for considering the issue, which directly affects hundreds of thousands of children studying in both state-run and private schools," he said.
"Each and every parent should now feel reassured and confident that his [or her] children will be able to continue their studies in a carefree atmosphere," he said.