PESHAWAR -- Pakistani security forces are raising awareness among residents of North and South Waziristan about the dangers of improvised explosives devices (IEDs) and land mines left behind by militants.
Although many internally displaced people have returned to Waziristan following the restoration of peace, free movement remains a major challenge due to the presence of thousands of scattered land mines and other explosives.
The awareness campaign, launched in May 2016, aims to minimise the loss of life and limbs and sensitise locals to the risks of IEDs and land mines.
The effort is set to continue until the entire region is cleared of such explosives.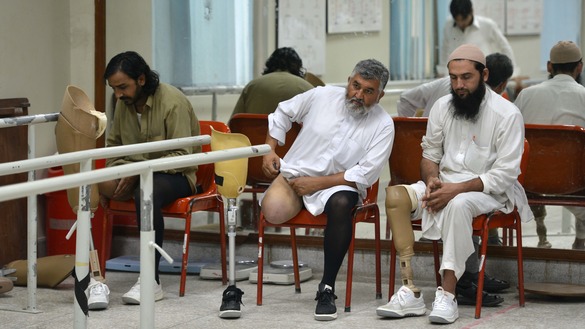 The campaign involves the distribution of informational pamphlets and banners and daily interactive sessions in schools and hujras (male social gatherings), according to officials.
Locating, disposing of land mines
Security personnel have mapped the location of hundreds of mines and explosives in the area and removal efforts are ongoing, according to Inter Services Public Relations.
However, over the nine years since military operations started in the region, rain, floods and erosion may have moved many of the mines from where they were originally laid.
That makes it all the more essential that local residents know how to identify land mines and IEDs.
Bomb disposal experts clear explosives identified by villagers and offer medical aid and compensation to those wounded in explosions.
Specialized teams of bomb disposal experts began accelerating demining efforts in Waziristan in December 2017, but the work is painstaking and dangerous.
In February 2018, Corps Commander Peshawar Ahmed Nazir Butt said 46 Pakistan army soldiers had been injured while clearing land mines in Waziristan, Tribal News Network reported (TNN).
Scores killed and injured
More than 2,000 cases of land mine blasts were reported in FATA over the past few years, according to a Pakistan Red Crescent Society official, TNN reported last September.
A majority of the victims were women and children, who were either killed or lost limbs, he said.
The victims are usually treated at Combined Military Hospitals (CMH) across Khyber Pakhtunkhwa and the Federally Administered Tribal Areas (FATA).
Khan Rasool, a 50-year-old resident of Sarvekai, North Waziristan, is among the victims of IED blasts.
Rasool was visiting his sister's home in the village when he was struck by an IED blast on February 27, causing injuries to his legs. He was treated at CMH Peshawar and discharged on March 13.
"It is a very good step to educate locals about the risks of IED explosives," he told Pakistan Forward.
"The locals, and specifically children, need awareness because the majority of children playing outside mistake IEDs as toys," he said.
"We returned to the region as peace was restored, and such efforts by security forces to raise awareness will send positive messages to those who are still afraid of returning to their homeland," Rasool said.
Implementing safety measures
Hamza Mahsood, a civil society activist from South Waziristan, said the IED awareness drive is a major development for the region.
"People are unaware of land mines, especially children because they play outside and considered these mines to be playthings, [potentially causing] casualties," he told Pakistan Forward.
The awareness campaign is effective and essential to educate residents about IED safety measures and how to recognise them, Mahsood said.
"Local tribes should also participate in such activities to raise awareness of IEDs and land mines," he said.
"Officials should establish telephone lines in the region to allow residents to report the presence of land mines," Mahsood said. "Army units and checkpoints are often located far from the villages and locals have no other way to report explosive devices."
FATA, and South Waziristan in particular, have been conflict-ridden for the past decade, said Habib Ullah Khan, a resident of Ladha Tehsil, South Waziristan.
"Remnants of war in the form of land mines and unexploded munitions are widespread in tribal areas," he told Pakistan Forward, adding that they have caused injuries, disabilities and even death to numerous people, including children and women.
"Although the recent Pakistani army campaign to remove land mines and other explosives in South Waziristan was long delayed, it is still good news," he said.