PESHAWAR -- Afghans and Pakistanis are welcoming Khyber Pakhtunkhwa (KP) government's efforts to eradicate tuberculosis (TB) from the region.
KP health centres began offering free treatment to Afghan refugees January 1, according to Dr. Maqsood Ali Khan, manager of the KP TB Control Programme.
In addition, staff at a laboratory in Peshawar will soon begin training Afghan medics and scale up their capacity to diagnose TB, he said.
The goal is to eradicate the disease by 2025.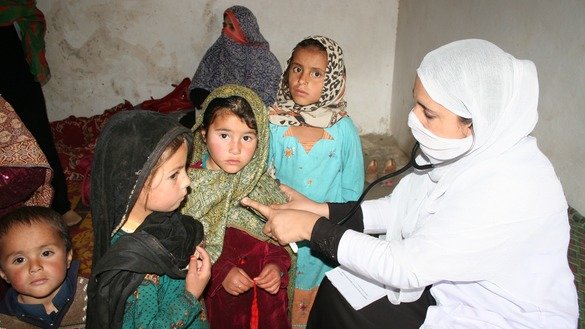 "The province is faced with the unhindered movement of Afghan TB patients, [prompting us to launch] free treatment [for them] and ... to safeguard the local population from contracting TB," Khan told Pakistan Forward April 2.
About 2.3 million Afghan refugees live in Pakistan, according to United Nations estimates, with about 10 million border crossers of both nationalities recorded every month.
KP's proximity to border checkpoints between Afghanistan and Pakistan's Federally Administered Tribal Areas (FATA) means a heightened risk of TB for KP residents, since Afghans entering FATA generally proceed to KP in search of aid and other services.
"The prevalence of TB in Afghanistan is a big threat to the region ... so we are making strategies to stop its transmission to the general population," Khan said.
"We are gravely concerned about the free movement of Afghan TB patients along the border, an issue that may affect plans to do away with the illness," he said.
Afghanistan's unique health challenges
Approximately 61,000 people are infected annually in Afghanistan, with about 12,000 deaths from TB each year, according to a 2017 estimate by the World Health Organisation (WHO).
Pakistan, meanwhile, has an estimated 510,000 new TB cases a year, according to the WHO.
Between 2016 and 2017, Afghanistan recorded an almost 20% increase in the number of TB cases detected, pointing to some of the challenges the country faces in diagnosing, testing and detecting the disease.
Some of these challenges include poor hygiene, the spread of a drug-resistant strain of the TB bacterium, and the weakened immune systems of Afghans with human immunodeficiency virus (HIV).
A lack of medical facilities in Afghanistan could make the situation even more precarious, impacting KP medics' efforts, said KP Director General of Health Services Dr. Ayub Roz.
KP officials are also providing free treatment to HIV/AIDS patients from Afghanistan, he said.
"We hope that [the new anti-TB effort] will lead to a TB-free KP as well as Afghanistan," he told Pakistan Forward. "During the past month, we have given free services to 1,100 Afghans."
Hazrat Nabi, a 39-year-old Afghan labourer from Jalalabad, is one of the patients benefitting from the free treatment.
Nabi said he visits Peshawar every month to undergo tests and obtain medication for TB. The treatment is going well, he told Pakistan Forward.
"I can work as usual and will be normal within six months," his doctors told him.
"Social taboos in Afghanistan hamper the eradication of TB," Dr. Mukhtiar Zaman Afridi, head of the TB and Chest Ward at the Khyber Teaching Hospital in Peshawar, told Pakistan Forward.
Members of the public in both countries have held incorrect notions about TB, such as that it is untreatable and spreadable by shaking hands or sharing meals, he said.
Misinformed individuals also fear, without foundation, that TB patients are immediately hospitalised in isolation units and that TB drugs cause infertility, according to Zaman.
KP accounts for about 60,000 of Pakistan's roughly 510,000 annual TB cases, he said.
Side-by-side efforts
Afghan health authorities also are working to reduce the incidence of TB throughout the country, Afghan Public Health Minister Ferozuddin Feroz told Pakistan Forward by email.
However, only a few Afghan provinces offer free diagnostic services and medication for the disease, he said.
"[Afghanistan's] health infrastructure is in bad shape," Feroz said, adding that health facilities and international medical charities, such as the International Committee of the Red Cross and Médecins Sans Frontières (Doctors without Borders) have been targeted by Taliban militants.
"We have established a well-equipped TB centre in Paktia Province, which is very small and cannot cater to the [entire] country's needs," he said, urging Afghan hospitals, clinics, pharmacies and senior doctors to refer TB patients to Peshawar.
"We are trying to ensure that the default rate of TB remains below 5%, case detection rate 90% and cure rate above 90%, for which we [are depending] on Pakistan," Feroz said.
"We are thankful to Pakistan, not only for co-operation regarding treatment of TB patients but also in other matters relating to the health of our people," Feroz said.