KABUL -- The Taliban have become Iran's puppets in western Afghanistan, targeting the region's major development and infrastructure projects at the behest of Tehran, say Afghan lawmakers, security sources and analysts.
Such ties became clear February 21 when a Taliban group joining the Afghan peace process in Herat province revealed that it had received support from Iran, as well as orders to disrupt the inauguration of the Turkmenistan-Afghanistan-Pakistan-India natural gas pipeline (TAPI) with terrorist attacks.
Afghan President Ashraf Ghani, Pakistani Prime Minister Shahid Khaqan Abbasi, Indian Minister of State for External Affairs Shri M. J. Akbar and Turkmen President Gurbanguly Berdymukhamedov attended that ceremony.
"We carried out sabotage in Adraskan, Zindajan and Ghorian districts," Sufi Azim, a member of the Taliban group, said while joining the peace process. "We had to do whatever the Iranians ordered us to do."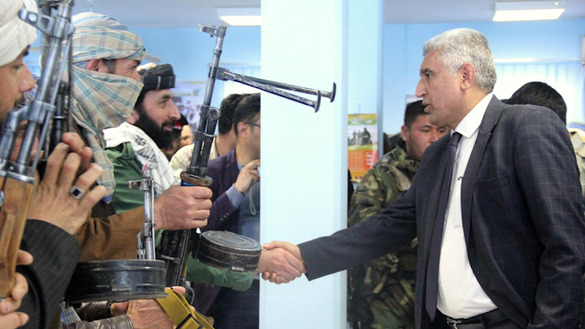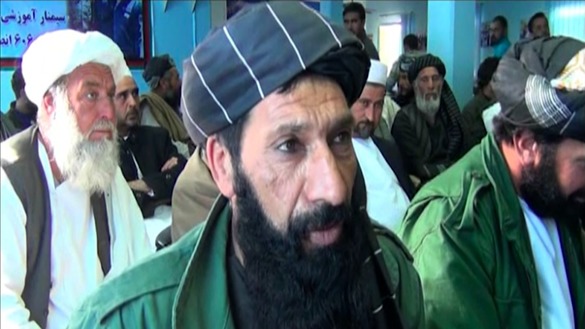 The Iranian Embassy in Kabul did not reply to repeated requests for comment from Salaam Times regarding the accusations.
"The countries of the region, especially Iran, are trying to realise their objectives [in Afghanistan]," said Munawar Shah Bahaduri, a representative of Herat in the Wolesi Jirga (lower house of parliament).
"Iran may attempt to cause TAPI to fail," he told Salaam Times. "There is a possibility that Iran will carry out sabotage to thwart this project."
"TAPI, however, enjoys vast popular support and ... chances are that the enemies of this project won't be able to stop it," Bahaduri said. "In a meeting with [Ghani], the people of Herat pledged to protect TAPI with their lives."
The Taliban claim to be co-operating with the project.
Iran takes aim at numerous Afghan projects
TAPI is not the only development effort that Iran is trying to destablise.
"Iran is working hard to create a number of challenges for the Afghan government and security forces [through the] Taliban by preventing the operation of Salma Dam [Afghan-India Friendship Dam] in Herat, the completion of Bakhshabad Dam in Farah and the implementation of TAPI," a security source working in western Afghanistan told Salaam Times on the condition of anonymity.
"Our intelligence investigations and data show that Iran, in co-operation with Taliban in western [Afghanistan], is planning to prevent the completion of TAPI," the source said.
In addition, Iranian-backed Taliban militants last June carried out a terror attack on Salma Dam, killing ten police officers.
"The Taliban have turned into Iranian proxies in western Afghanistan. These proxy soldiers are the ones who carry out every destructive terror plot designed by Iran," the source said.
Iran training, arming Taliban
Iranian intelligence services are protecting the Taliban, who carry out Tehran's objectives in Farah, Badghis, Herat, Ghor and Nimroz provinces, according to Hashem Danish, a political analyst who resides in Farah province.
"One of these objectives is to impede the completion of Bakhshabad Dam," he told Salaam Times.
Destabilising Afghanistan's water projects and undermining its economy are some of the reasons for Iran to provide arms and military training to the Taliban.
"Iran has established combat training camps for the Taliban inside its territory in regions such as Shamsabad, Birjand, Daftabad and Sefid Ab," Danish said. "Members of the Taliban travel freely on Iranian soil. We even know the names of Taliban members who travel back and forth to Iran."
"In Farah, Taliban have the the most advanced weapons, such as night-vision rifle scopes, each priced at 3 million to 3.5 million AFN ($43,000-50,000)" he said. "Also, Iran provides the Taliban with Russian-made weapons instead of those made in Iran."
Seeking a weak Afghanistan
Iran has a strategic interest in "an unstable Afghanistan with a weak government", said Ghulam Sakhi Mohammadi, a Kabul-based political analyst.
"One of the strategic interests of Iran is to ensure that there are no major infrastructural projects such as TAPI and the Salma Dam in Afghanistan," he told Salaam Times.
"If we have instability and an incapable government in Afghanistan, we clearly won't be able to utilise our water sources, activate our dams, produce electricity, or expand our agriculture sector and domestic manufacturing," he said.
"These are the sorts of things that Iran does not want [Afghanistan to be able to do]," he said. "Therefore, any group that wants to create insecurity in Afghanistan will have Iran's military and financial support."
"Whenever the subject of building and utilising dams and other infrastructure projects in Afghanistan comes up, we witness far more insecurity in the provinces where those dams are planned," said Jalal Ansari, a resident of Herat province and economics student at Kabul University.
"Despite the optimism about TAPI, one of the biggest concerns is that ... the provinces through which the pipeline passes will become insecure and destabilised by Iranian[-backed Taliban]," he told Salaam Times.
"Dams, projects related to these dams and TAPI have great economic value for Afghanistan, from which our government and our people will benefit financially," he said.
"Iran, on the other hand, considers these projects to harm its interests," Ansari said. "Hence, it will try every possible way to thwart these projects."