KARACHI -- Karachi authorities have taken a number of security measures to tighten security and reduce the threat of militancy in the city as part of a recent terror alert, police officials say.
The Sindh Home Department on February 23 issued a security alert for potential terrorist attacks in key locations in Karachi including the Sindh Assembly, Sindh High Court, Zainab Market, Empress Market in Saddar, Muhammad Ali Jinnah Road and restaurants situated at Do-Darya (two-rivers), Karachi's popular food street by the sea.
The Home Department alerted the Sindh Police, Rangers, Intelligence Bureau and V-Corps headquarters in Karach and asked them to take additional security measures to pre-empt potential terrorism.
Deterring terrorism, other crime in Karachi
"We have improved security through random security audits of important places like big shopping malls, crowded markets, the governor's House, chief minister's House, Sindh Secretariat and other locations in the city," Karachi Deputy Inspector General of Police Javed Akbar Riaz told Pakistan Forward February 27.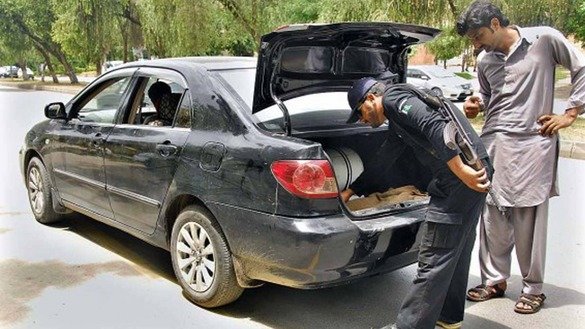 "The purpose of the security surveys of key locations was to identify loopholes in security," he said.
Police and private guards have been deployed in places where officials found lax security, Javed said.
The Karachi Police are co-ordinating regularly with the Rangers to maintain security in the city, according to Riaz.
"We launched the Shaheen Force about six months ago, which continues to patrol various areas in the city and keeps a check on organised crimes and street crimes as well," he said, referring to a police motorcycle unit.
The increased patrols and snap checks have deterred militants and common criminals in the city, Riaz said.
Effective intelligence-based operations
Since the launch of security and intelligence-based operations in Karachi in September 2013, the intensity and frequency of terrorism in the city have dwindled, according to security analysts.
"Intelligence agencies regularly monitor militants' activities and forewarn the government and the security agencies whenever they find any indication of the possibility of a threat of militancy in the city," Karachi-based security analyst Col. (ret.) Chaudhry Muhammad Sabahuddin told Pakistan Forward.
Col. (ret.) Mukhtar Ahmed Butt, director general of the Federation of Pakistan Chambers of Commerce and Industry in Karachi, lauded the success of security operations against militants.
"Overall business has grown significantly in the past couple of years in Karachi because of operations against militants," he told Pakistan Forward.
However, authorities should tighten security for vulnerable and soft targets to avert the possibility of any terrorist acts, said Butt.
The latest "red alert" is worth heeding because the government has restored peace to the country after much effort and many years, but militants might exploit political instability to destroy that peace, he said.