PESHAWAR -- The Khyber Pakhunkhwa (KP) Police have decided to make 454 of the force's vehicles bulletproof in order to protect police officers from terrorist attacks, officials told Pakistan Forward.
"The KP Police were in dire need of good equipment, training and leadership," KP Police spokesman Zahidullah Khan told Pakistan Forward December 22. "Each vehicle upgrade will cost Rs. 4 million ($40,000)."
The decision to upgrade the vehicles came in early December after Additional Inspector General Mohammad Ashraf Noor was killed in a suicide attack on his vehicle on November 24 in Peshawar.
"KP Police are determined to maintain and consolidate the hard-earned peace in the province," Zahidullah said.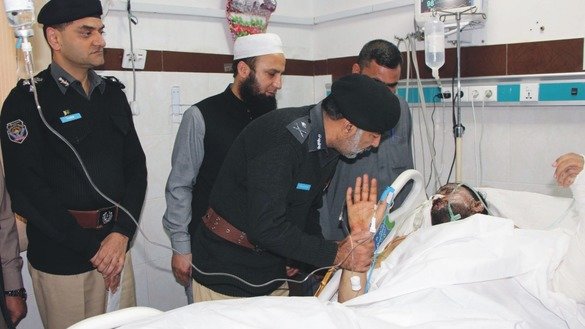 Enhancing anti-terror capabilities
KP has seen a record low in terrorist incidents this year, for the period of the war on terrorism, with a 51% reduction in cases compared to 2016, KP Inspector General of Police Salahuddin Khan Mehsud told Pakistan Forward.
"The KP government is committed to providing the latest equipment to police [in order to] enhance their capabilities against terrorism," he said. "With the advantage of [the most modern] equipment, the police will perform better."
"Initially, one such bulletproof vehicle will be provided to each police station, sub-divisional police officer, district police officer [DPO] and regional police officer [RPO]," Mehsud said. "Bulletproof vehicles will also be provided to the officers serving in the central police office."
The bulletproof vehicles will greatly help reduce casualties at combat zones and allow safe mobilisation of police personnel without risking their lives, he said.
"In case of any terror attack, the police could safely evacuate trapped civilians from the combat scene with the help of these vehicles," said Mehsud.
Upgraded vehicles get officers' support
Police officers in KP have been appreciative of the bulletproofing plan.
Chief Capital Police Officer (CCPO) Peshawar Tahir Khan welcomed the KP government initiative. "This personal security measure will help greatly in saving police officers from improvised explosive device [IED] attacks, suicide bombings and -- to some extent -- targeted killings," he said.
The bulletproof vehicles will ... allow police officers to patrol without fear in "sensitive and far-flung areas", he said.
Bulletproofing police cars is an excellent decision, said Shafqat Malik, head of KP Police's Bomb Disposal Unit.
"These secure vehicles will enhance the operational capability of the police force," he said.
"After getting bulletproof vehicles, the police can perform confidently, and confidence leads to success," Malik said. "I can assure you that these secure vehicles will contribute positively to curbing terrorism."
Ensuring safety
"The KP government is ready to pay the expenses," Saleem Marwat, additional inspector general of police for Finance Department, told Pakistan Forward, referring to the vehicle upgrades.
"This project will ensure the protection of police officers," he said.
Police, like anyone else, need the right conditions to succeed, said Prof. Basharrat Hussain, chairman of the criminology department at the University of Peshawar.
"If their personal security is not ensured, [police officers] cannot perform well," he told Pakistan Forward.
Officers who feel safe will do a better job, which in turn will raise public trust in the police force, Hussain said.
"These vehicles are the need of the hour," SSP Peshawar Sajjad Khan told Pakistan Forward.
"Police will feel secure in these vehicles and can patrol safely even in border areas," Sajjad said. "With the help of bulletproof vehicles, police could shift the stranded to safe places."
"More vehicles will give more-positive results and performance," Sajjad added.