PESHAWAR -- A new Operational Command Course for mid-level police officers in Khyber Pakhtunkhwa (KP) is improving their counter-terrorism capabilities and confidence in tackling emergencies, officials and participants say.
The first 100 officers who participated in the two-month course graduated October 19 at the Elite Police Training Centre Nowshera.
Another 100 officers are training now and are expected to graduate by the end of December.
The course is designed for mid-level officers -- those with the rank of inspector, sub-inspector or assistant sub-inspector -- and is aimed at improving their counter-terrorism skills and their ability to carry out various types of investigations and emergency situations.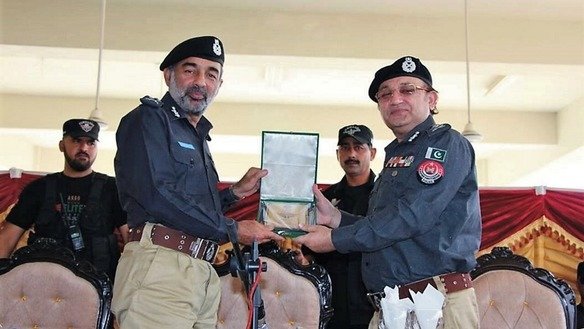 The force has about 20,000 mid-level officers, all of whom will eventually take the Operational Command Course, according to officials.
The training course has proved to be a milestone in the history of the KP Police, KP Inspector General of Police Salahuddin Khan Mehsud said during the passing out ceremony.
"The course is mandatory for all upper subordinates serving in the field, which will substantially increase the force's capacity to fight terrorism and crime," he said. "The knowledge and skills acquired in the course have enabled the participants to command forces with more confidence and combat skills during raids and security duties."
Because of the internal and external law and order situation, the threat of terrorism still exists in Pakistan, Mehsud said. However, KP Police are aware and fully capable of meeting those challenges.
"We must maintain and improve the counter-terrorism capacity of our field commanders," he said.
An informative learning experience
The graduates of the Operational Command Course learned about "offensive operations, target hardening, security operations, public safety, first aid, weapons handling, effective raids, convoy protection, patrolling, and barricade and cordon operations", KP Elite Force Commandant Dr. Muhammad Naeem Khan told Pakistan Forward.
"This was a very informative... learning experience as the training enhanced our understanding of combating terrorists and overcoming the enemy during raids and operations," Hameed Khan, an assistant sub-inspector from Kohat, told Pakistan Forward.
Khan said although he has served as a station house officer in charge of a police station, he was not aware of the proper professional skills necessary for conducting raids and intelligence-based operations against insurgents.
"The Operational Command Course has taught and trained us about proper planning to manage emergencies and operations against terrorists," he said.
Muhammad Imtiaz, a Peshawar station house officer who participated in the Operational Command Course, also said he felt unprepared before the training.
"Whenever we conducted intelligence-based operations, we called Elite Force commandos to lead the raiding team," he told Pakistan Forward. "I did not have the proper knowledge of how to tackle hardened criminals and terrorists in a more professional manner and mostly depended upon Elite Force officers."
"Now I know how to handle the situation," Imtiaz said.
The course has imparted knowledge, skills and experience on handling emergencies in a professional manner and will help improve police capabilities in combating anti-government elements, he said.
"After taking part in the training, I feel confident to deal with any terrorism-related emergency without having to wait for the Elite Force to come and guide us," Imtiaz said.
Training improves professional capabilities
"The role played by KP Police is the ongoing war against terrorism is exemplary [and has] no match in the annals of history," said Aqeel Yousafzai, a Peshawar-based journalist and security analyst who has penned several books on terrorism and its impact on society.
The entire KP Police force, about 90,000 officers, is undergoing various types of professional training, he said.
"Our police force has shown extraordinary gallantry and valour in combating terrorism and its related crimes, such as extortion and kidnapping for ransom, among others," he told Pakistan Forward.
"The Operational Command Course has further improved the professional capabilities of the KP Police force and has helped make it a bulwark blocking the path of insurgents and anti-state elements," Yousafzai said.