PESHAWAR -- Khyber Pakhtunkhwa (KP) Inspector General of Police (IGP) Salahuddin Khan Mehsud and Capital City Police Officer (CCPO) Mohammad Tahir met Tuesday (November 28) with officers who were wounded in a suicide attack in Peshawar last week, commending their commitment and bravery.
The attack took place in Hayatabad, a suburb southwest of Peshawar, on November 24. A suicide bomber hit a vehicle carrying Additional Inspector General Ashraf Noor, killing him and wounding seven other policemen.
Mehsud and Tahir visited Roohullah, a bodyguard of Noor who was critically wounded in the attack, and the other injured officers at a hospital in Hayatabad.
"[Roohullah] was injured in the bomb blast, hurt and burnt. He saluted his inspector general from an ICU bed to show his commitment as a soldier," Mehsud told Pakistan Forward. "This is the spirit of the KP Police in fighting against terrorism and crime."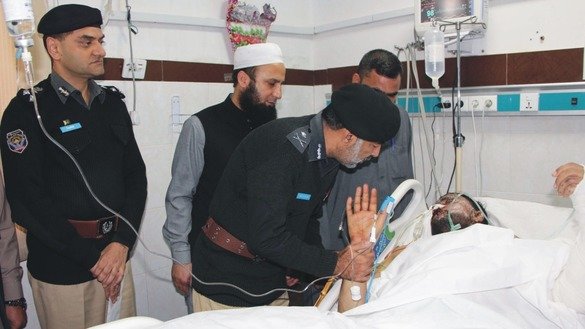 The two leaders told family members the police force would bear the costs of their treatment.
Roohullah displayed his commitment to the "restoration of peace like thousands of other men of the KP Police," Mehsud said, adding that he is popular among the force for his sense of humor, co-operative nature and sense of duty.
Tahir told Pakistan Forward that the wounded officer's salute to the IGP showed he is ready to continue his job once recovered.
The video of the hospital visit was shared by many on social media after being released by the press, and over 8,000 times from the KP police Facebook page alone.
"We as nation are in debt to all these brave souls sacrificing their all for us. May he get well soon," said user Rabia Mufti.
"Really feel sad for this soldier and his family. But salute his courage as well as the [inspector general of police]. Long live KP Police," said Mohammad Uzair Khan, another user.