PESHAWAR -- The Khyber Pakhtunkhwa (KP) government has begun work on the Bus Rapid Transit (BRT) corridor in Peshawar aimed at reducing traffic jams in the provincial capital.
KP Chief Minister Pervez Khattak inaugurated the BRT project in a ceremony October 19. Work is expected to take six to nine months to complete.
"The project will provide modern public transport facilities ... and will change the face of Peshawar," Khattak said after the ceremony.
Three hundred buses fueled by natural gas will be deployed on the 25.8km-long road between Chamkani village in the east and the southwestern suburb of Hayatabad, he said.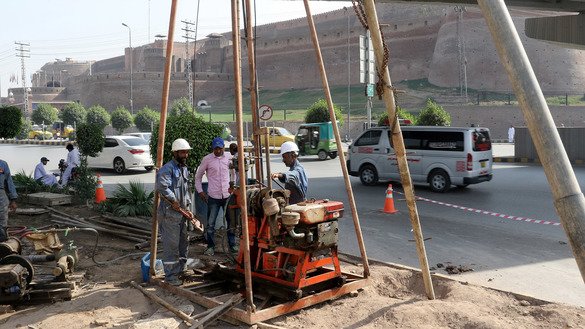 The project costs Rs. 48 billion ($455 million), plus another Rs. 8 billion ($75 million) for the buses.
Special consideration was made to ensure the buses and bus routes accommodate all passengers, including handicapped and elderly citizens, as well as women, Khattak said. A special lane for bicyclists will also be part of BRT.
About 400,000 passengers will benefit daily from the project, he said.
Separately, a greater circular railway is also expected, one eventually connecting Peshawar and the districts of Charsadda, Mardan, Malakand and Nowshera, he said.
Construction under way
The BRT plan includes the construction of dozens of new stations.
"As many as 31 stations will be built all over the route from Chamkani to Hayatabad via Grand Trunk Road, Dabgari Gardens, Railway Road, Saddar and University Road," Peshawar Traffic Superintendent of Police Riaz Ahmad told Pakistan Forward.
Three main stations will be built in Dabgari, Chamkani and Hayatabad, he said.
The plan is to have 14.9km of the BRT route at ground level, with 6km elevated and 4.9km of it underground. Twenty-six stations will be at ground level, and five will be elevated.
Plus, a comprehensive plan is in place to deal with traffic caused by the construction, Ahmad said.
"Thirteen alternate routes have been identified for each area, where ... 100 traffic cadets [and] more sergeants will be deployed to ensure the smooth flow of traffic during the coming months until the completion of BRT," he said.
Benefiting 3 million Peshawarites
The BRT project will provide quality transportation to Peshawar's 3 million residents, District Nazim of Peshawar Muhammad Asim Khan told Pakistan Forward after the groundbreaking.
"All [KP government] departments have been directed to ensure completion of the project within the stipulated time so that the public is not disturbed," he said.
"Chief Minister Khattak is personally looking after the construction process and has stressed to all departments not to compromise on quality," said Khan.
"BRT will rapidly change the face of public transport in Peshawar, and in other cities soon," KP Transport Department public transport examiner Mohammad Jamil told Pakistan Forward.
Residents say they are looking forward to improved public transport facilities in Peshawar.
"The majority of residents [in Peshawar] travel on public transport, and it was the need of the hour to upgrade its quality with a project like BRT," said local trader Mohammad Ishaq.
"There must be no compromise on quality and time [to complete] BRT," he told Pakistan Forward.