UPPER DIR -- Authorities in Khyber Pakhtunkhwa (KP) are establishing computerised arms license centres and a database of firearms owners as part of an effort to track illegal permits and discourage the misuse of weapons.
One such centre established in Upper Dir was inaugurated October 6 by KP Minister for Local Government, Elections and Rural Development Inayatullah Khan.
Such facilities allow arms holders to obtain properly authorised licenses and register their information in a national database.
The centres help authorities detect forged permits and benefit legal arms holders, said Upper Dir Deputy Commissioner Muhammad Usman Mehsud during the inauguration ceremony.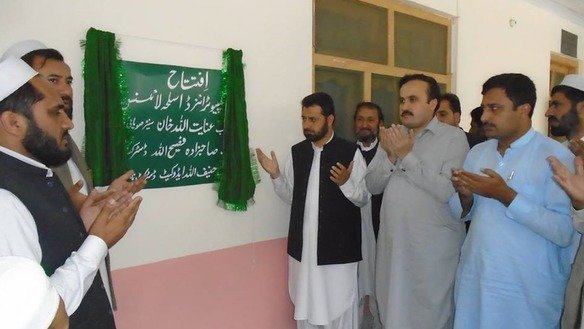 About 8,000 existing licenses will be logged by the centre, enabling them to be verified by the National Database and Registration Authority (NADRA), he said.
NADRA is using SMS technology to confirm each permit. For example, a police officer who comes across a firearm can send NADRA an SMS with the alleged license number, and NADRA would then send an SMS back to the official with confirmation that the number and firearm is valid.
Police and security officials earlier used the same system to confirm the validity of Computerised National Identity Cards (CNICs).
Illegal arms aid crime, terrorism
The consequences of weapons misuse have "underscored the need [to maintain] a uniform database of firearms and [their] holders", Muhammad Ali, a member of the KP Provincial Assembly representing Upper Dir, told Pakistan Forward.
The initiative provides an easy way to obtain an arms license while creating a sense of security among the general public due to the registration of illegal weapons, he said.
Although owning weapons is not itself a cause of conflict and violence, "the possession of unregistered weapons and [their] free availability can exacerbate crime rates and extremism in society," Ali said.
The most dangerous effect of undocumented firearms is that those with bad intentions, including terrorists, can misuse them, he said.
"Registration of arms coupled with stringent measures to prevent illegal trafficking of weapons will definitely ... control militancy and reduce crime rates in our society," he said.
Easy verification
Proper implementation of the registration and license issuance policy will reduce the number of weapons in circulation, ultimately minimising chances of misuse, said Waqar Ali of the KP Elite Force.
Illegally issued licenses are often used to hold more than one weapon, making firearms easier to smuggle, he explained.
"The information of those with computerised licenses will automatically come under scrutiny, making the process of identifying illegally issued arms licenses much easier," he told Pakistan Forward.
Tariq Sangeen, the owner of a gun shop in Peshawar, said he supports the new computerised registration system because it will help control the misuse of firearms and illegal weapons' transfers.
Tracking weapons will be easier for authorities once "a comprehensive record of acquisition, possession and transfer of each and every weapon from its manufacturer to its end user is compiled by the license issuing authority", he told Pakistan Forward.