ANGOOR ADDA, South Waziristan -- Pakistan's military invited journalists to the border with Afghanistan Wednesday (October 18) to showcase its efforts to secure the porous, militancy-infested frontier.
For decades, militants from the Afghan Taliban, al-Qaeda and other militant groups have operated with impunity in the region, crossing the colonial-era border at will. Pakistan and Afghanistan have long accused one another of providing safe havens in the border region from which militants launch devastating cross-frontier attacks.
A roughly 10-foot-tall chain-link fence, shrouded in barbed wire, has begun stretching through parts of the rugged tribal districts of North and South Waziristan along the Afghan border. Construction began in March.
Pakistani soldiers at the forts spaced along the frontier scan the rolling, bush-covered hills on the other side. Inside the forts, more troops monitor CCTV cameras trained on the fence, which is illuminated by solar powered lights at night.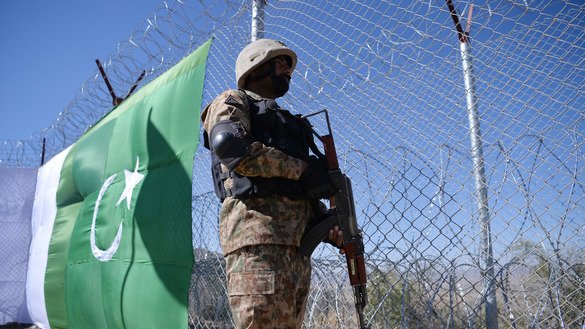 The fence is an "epoch shift" in control of the border, a top Pakistani officer in South Waziristan told journalists at Hamza Fort, Angoor Adda. The military also took reporters by helicopter to see the Kitton Orchard Fort near Ghulam Khan in North Waziristan, more than 200km away.
To date, only 43km of the border have been separated by the fence, but the entire length will be covered by the end of next year, said the officer. "There'll not be an inch of international border that shall not remain under observation by December of 2018," he said. The military requested that he not be named.
"By the time we are done, God willing, we'll be very sure of one thing -- that nobody can cross this place."
"Fencing the Pakistan-Afghanistan border is a great initiative and will help curb militants shuttling along the border," Muhammad Amir Rana, director of the Pak Institute for Peace Studies in Islamabad, told Pakistan Forward.
"I am sure it will help control militants' operations up to 70% on both sides of the border and will be a great initiative in winning the whe war on terror," he said.
Fencing the border should have taken place long ago, said Prof. Syed Hussain Shaheed Soherwordi, chairman of the international relations department at the University of Peshawar.
"The fencing will guarantee peace for both Pakistan and Afghanistan, and secondly it will help hunt down the terrorists who usually escape [security] operations [by] crossing the porous border," he told Pakistan Forward.
[Muhammad Ahil from Peshawar contributed to this report.]