SHABQADAR -- Newly graduated Frontier Constabulary (FC) recruits, inspired by those who have fought before them, say they are ready to defend Pakistan and their countrymen from the scourge of terrorism.
Spirits were high as 956 recruits graduated on September 20 at Shabqadar Fort, about 25km north of Peshawar.
The FC, a paramilitary police force, has been entrusted in recent years with numerous multidimensional responsibilities, in addition to its main function of policing the border between Khyber Pakhtunkhwa (KP) and the Federally Administered Tribal Areas (FATA).
Such duties have included supporting law enforcement agencies in maintaining law and order and providing security to diplomats and other VIPs, vital government installations, multi-national companies and hydro-power projects.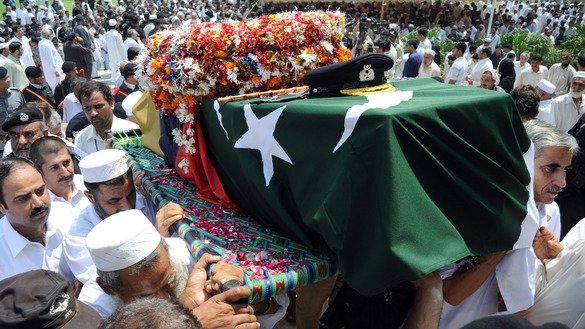 High praise for the FC
The passing out ceremony was attended by Interior Minister Ahsan Iqbal and FC Commandant Liaqat Ali Khan, both of whom praised the FC and its sacrifices in the war on terror and for safeguarding the life and honour of its members' countrymen.
"The FC is actively engaged in defeating terrorism from Gilgit to Mehran along with the armed forces, paramilitary troops and police, and their sacrifices speak to their courage," Khan told Pakistan Forward.
The force is unique, not only because it safeguards the buffer zone between FATA and the settled areas but also for its readiness to aid other agencies in handling emergencies and in guarding diplomatic missions and other sensitive locations, he said.
The FC is Pakistan's only force whose top commander was killed in the war on terror, Khan said. Additional Inspector General of Police (IGP) Safwat Ghayyur was killed in a suicide attack in Peshawar in August 2010.
Another 356 FC personnel have sacrificed their lives and 560 have been wounded in Operation Rah-e-Rast, Operation Zarb-e-Azb and Operation Radd-ul-Fasaad, he said.
The FC is now a more powerful force equipped with modern equipment and with the latest gadgetry and its scope has expanded, Khan said.
"Pakistan has proved its worth as the only country that has defeated terrorism on its soil, and it is because [of] brave soldiers like you," Iqbal said, speaking to the new graduates. "In 2013, Pakistan was considered the most dangerous country in the world, but today we are the fastest growing economic power in Asia."
"We are proud of our armed forces and the security agencies [who sacrifice their lives] for the motherland, and the FC has always been a frontline force in defeating terrorism," Iqbal told Pakistan Forward.
Recruits ready to fight
Ajab Khan, a recruit from Charsadda, expressed his pride after graduating.
"It is a great day, not because I have completed the training but because I am now a soldier and ready to defend my motherland, especially from the scourge of terrorism," he told Pakistan Forward.
Raheemullah, another FC graduate, spoke of his days in his home village of Akhorwal, near Dara Adamkhel.
"We saw very difficult days, when we were not able to even come out of our homes and were forced to cook and bring food for the militants who ruled our villages," he told Pakistan Forward. "But now our law enforcement agencies have crushed them."
"When I was a child, I wished to fight these enemies of Pakistan and Islam, and today my dream has come true," he said. "I am ready to go after them."
Murad Khan, a recruit from Manshera, said his parents wanted him to be a doctor, but he opted to join the armed forces to help keep his countrymen safe.
"I wanted to be a soldier, and today, I am," he told Pakistan Forward, adding that the late FC commander Ghayyur is his inspiration.
"I really feel proud when I see his photographs in FC barracks and on roads," he said. "I want to be like him, standing tall against the enemies of Pakistan."