ISLAMABAD -- Extremism in Pakistani universities is far more complex and alarming than it appears, says a report published by the Institute of Strategic Studies (ISSI).
The attempted assassination of Muttahida Qaumi Movement (MQM) leader Khawaja Izharul Hassan in Karachi September 2 has highlighted the problem, as the attackers were a group of highly educated youth affiliated with Ansarul Shariah Pakistan (ASP), a militant organisation comprising about a dozen members said to be operating under the umbrella of Al-Nusra Front, an al-Qaeda-linked group based in Syria.
That incident made the impression that universities in Pakistan are a breeding ground for violent extremism, said Asad Ullah Khan, a research fellow and author of the October 2 ISSI report titled"On Campus Extremists".
However, that interpretation is over-simplified, he said, because "extremist elements in any society are common in all segments of society irrespective of their socio-economic status and educational backgrounds".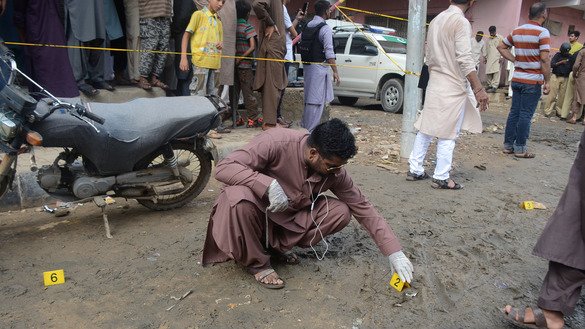 Nonetheless, the involvement of highly educated youth in militant activities is concerning for two reasons: these skilled youth are a lost asset to Pakistan and they can strengthen terrorist groups and help them to damage society in non-traditional ways, the report said.
Educating youth on politics, religion
The presence of religious political parties in universities is "a major challenge" for Pakistan, Khan said.
"The religious political parties construct their identities on the basis of religion," he said. "To counter this threat, young individuals need to understand the complexity of religion and politics."
The goal of these religious political parties must be understood, he said. "It is not a matter of religion; it is only about achieving political objectives through injecting religious ideologies in young and vulnerable minds on campus."
Research, which plays an important role in innovation and attaining knowledge, can be a powerful tool in preventing extremism, he argued.
"The minds of vulnerable youth in the university can be changed by providing them the atmosphere and necessary resources for performing quality research," he said, adding that such attributes presently are lacking in many higher educational institutions.
"In a religiously, socially and culturally diverse state like Pakistan, higher education institutions and universities ... are the central mechanisms that can raise the declining social infrastructure of the state," he said, adding that combating violent extremism in Pakistan requires "an innovative and unconventional approach".
Monitoring students, preventing extermism
University administrators are taking measures to prevent extremism on campuses.
"Lack of discipline and of monitoring is leading to penetration of extremism, militancy and other problems in some Pakistani universities," said Ashfaque Hasan Khan, dean of the School of Social Sciences and Humanities at the National University of Science and Technology (NUST) in Islamabad.
Not a single case of extremism or militancy has been reported at NUST, thanks to the tight monitoring of students and hostels, he told Pakistan Forward.
Female students at university hostels must observe a 9pm curfew, while male students have a curfew of 10.30pm, he said. Moreover, NUST does not allow outsiders to stay in its hostels.
University staff "also keep an eye on the activities and appearance of the students" and follow up with students who appear to be struggling, Khan said.
Institutions facing problems with extremism, militancy and drugs must enhance monitoring and keep outsiders away from the campus and hostels to protect their students, he said.
Security solutions
At the University of Karachi, the administration regularly co-ordinates with security forces deployed on campus.
"Rangers have been deployed at the University of Karachi on a permanent basis for many years with the objective to maintain security and tackle other challenges," Farooq Ali Khan, a spokesman for the university, told Pakistan Forward.
Like other schools, the University of Karachi monitors the activities and behaviour of its students to ensure they do not engage in "anti-social activities", he said.
"It is [also] the responsibility of the families of the students to keep an eye on their children," he said, pointing out that students spend just three to five hours at the university per day.
"The government and the universities must evolve a foolproof security mechanism to protect students and varsities from the threat of extremism and militancy," Mubasher Mir, resident editor at the Daily Pakistan in Karachi, told Pakistan Forward.
Long-term solutions will require serious efforts, he said.