PESHAWAR -- Gulalai Ismail, a peace activist from Khyber Pakhtunkhwa (KP), has been awarded the prestigious Anna Politkovskaya Award for defying extremism and violence in Pakistan.
Anna Politkovskaya, a Russian journalist, was assassinated in Moscow on October 7, 2006, for her reporting of the war in Chechnya. The London-based Reach All Women in War (RAW in WAR) established an award in her memory beginning in 2007 to honour women advocating for human rights in conflict zones.
Gulalai Ismail and Indian journalist Gauri Lankesh jointly received the Anna Politkovskaya Award 2017 on October 5.
Both were commended for their courage in speaking out against extremism in their countries. Gulalai has opposed religious extremist values in northwestern Pakistan, while Gauri spoke against right-wing Hindu extremism and caste-based discrimination in India. Gauri was killed on September 5, 2017, in the southern Indian city of Bengaluru by unidentified gunmen.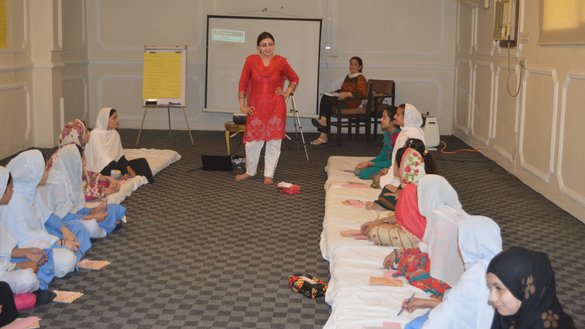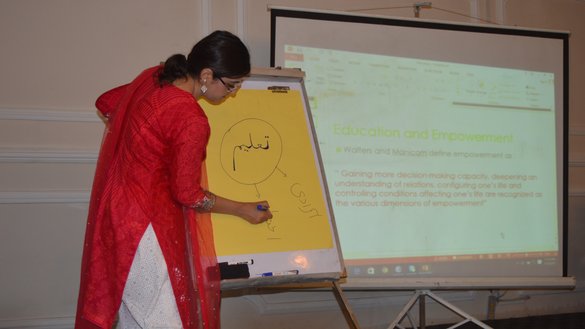 Aware Girls
In 2002, at the age of 16, Gulalai and her sister Saba founded Aware Girls, a non-governmental organisation seeking to challenge the culture of violence and harassment against women in KP and the Federally Administered Tribal Areas (FATA).
Since the very beginning, [Aware Girls] has worked for women's rights, Gulalai told Pakistan Forward. "Our organisation raises voice against injustices suffered by women and creates awareness among women regarding their rights," she said.
She said the recent award was a great honour.
Gulalai has been frequently threatened for her activism, said Salma Khan, a programme co-ordinator with Aware Girls, adding a number of social media campaigns have called Gulalai a foreign agent and Western puppet.
"She was even labeled as an atheist and was threatened multiple times by intolerant religious groups. However, she never lost courage and continued her work with more motivation and zeal," Khan said.
Although the main focus of Aware Girls is on women's issues, the group has also begun a number of trainings and workshops to counter terrorism in the region and educate the youth of KP and FATA, according to Khan.
Gulalai established a Youth Peace Network in 2009 to encourage both boys and girls to be peace activists in the region.
"Gulalai thinks that youngsters can play a key role in promotion of peace in Pakistan," Aqsa Khan, an Aware Girls project assistant, told Pakistan Forward.
The establishment of the network took place during a time when terrorism was at its peak in KP and FATA. The extremists could easily victimise youths, said Gulalai.
"To avoid this threat, [Aware Girls] started to gather youth under the platform of the Youth Peace Network and started a counter narrative against the extremist views of the miscreants. We have trained more than 500 young boys and girls who are willing to work for the promotion of peace in the region," she said.
Utilising social media
Irfan Afridi, a student of international relations at the University of Peshawar, is among those who received training from Aware Girls. He became a part of the Youth Peace Network in 2015.
"I was pretty conservative towards women's rights, education and their role in society. However, after receiving the training, [...] I used [social media] as a platform to educate youth on women rights and importance of peace," he said.
Irfan said he has arranged many musical and cultural shows advocating for peace, organised debates and invited prominent personalities to deliver lectures on peace in the schools administered by his family.
Gulalai has worked tirelessly to build bridges for peace and to promote peaceful resistance to the Taliban, and encouraged women and youth on every platform, said Irfan.