PESHAWAR -- Inter-provincial co-ordination in tracking down wanted terrorists will prove successful in Pakistan's war on terror, security analysts say.
After being dislodged from their strongholds along Pakistan's tribal belt, many high profile terrorists are on the run and seeking shelter in urban areas, security officials warn. But joint efforts and information sharing will make it impossible for wanted terrorists to stay in hiding for long.
With this in mind, Punjab provincial security officials in mid-September shared with all other provincial authorities, including the Khyber Pakhtunkhwa (KP) government and the Federally Administered Tribal Areas (FATA), a list of 109 wanted terrorists with head money ranging from Rs. 500,000 ($4,700) to Rs. 10 million ($95,000).
These individuals are wanted for their suspected involvement in terrorist activities against civilians as well as against Pakistani officials and security personnel.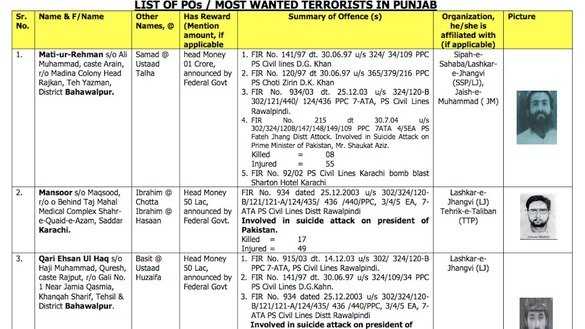 Pakistan's most wanted list
The list, which Punjab has been compiling since 2015, includes the names and aliases of wanted terrorists and individuals involved in acts of violent extremism, the charges against them, their known affiliations with banned organisations, and their photographs if available.
It includes high profile terrorists wanted in connection with assassination attempts against former prime minister Shaukat Aziz, former president Pervez Musharraf and former prime minister Benazir Bhutto (who was killed in 2007), among others.
The list includes 8 from al-Qaeda, 36 from Tehreek-e-Taliban Pakistan (TTP) or TTP affiliated groups, 30 belonging to banned Sipah-e-Muhammad Pakistan, 28 from Lashkar-e-Jhangvi (LeJ), 27 from Tehreek-e-Jafaria Pakistan (TJP), 14 from Sipah-e-Sahaba Pakistan (SSP) and 3 from Jaish-e-Muhammad, while 14 are involved in individual acts of terrorism and have no affiliation. Some have multiple affiliations.
At the top of the list is Mati-ur-Rehman, alias Samad alias Ustad Talha of Bhawalpur District of Punjab, who has been charged in scores of terrorist acts including involvement in a suicide attack in Islamabad against Shaukat Aziz in 2004, an attack outside Karachi's Sheraton Hotel in 2002 and a blast targeting the Counter Terrorism Department (CTD) Civil Lines offices in Karachi in 2010.
Next on the list is Mansoor, alias Ibrahim Chota, from Karachi. He is affiliated with LeJ and TTP and carries head money of Rs. 5 million ($47,500). He is wanted for his involvement in a suicide attack targeting Musharraf that killed 17 people and injured 49 others.
The list includes Faiz Muhammad, former student of Darul Uloom Haqqania, a seminary located in Akora Khattak, KP, who was accused of involvement in the assassination of Bhutto, an attack that took 24 lives. Faiz Muhammad and another man accused in Bhutto's slaying, Ikram Ullah of South Waziristan Agency, both carry head money of Rs. 2 million ($19,000).
Sharing information
The list has been shared with intelligence agencies in both KP and the Federally Administered Tribal Areas (FATA), and special teams have been formed to hunt down the wanted terrorists.
"Such intelligence sharing is important as it shrinks the space for the absconding hardcore terrorists and helps the authorities to identify and go after them," Prof. Syed Hussain Shaheed Soherwordi, chairman of the international relations department at the University of Peshawar and a specialist on militancy and the tribal areas, told Pakistan Forward.
"KP law enforcement agencies have considerable expertise in arresting and killing such high profile terrorists," he said. "Many from al-Qaeda, TTP and even now the ['Islamic State of Iraq and Syria' (ISIS)] network in Pakistan have been caught in the tribal areas."
It is unlikely that the wanted terrorists are hiding in KP or FATA, he said.
"Rather, many have crossed over the porous border and are sheltering themselves in the no-man's-land along the Pakistan-Afghanistan border areas," he said, adding that it is "a good sign that information about them is available ... to identify and arrest them".
Justice must prevail
Rustam Shah Mehmand, a former Pakistani ambassador to Afghanistan now based in Peshawar, praised the sharing of information and said it should have been done much earlier.
"These attacks were carried out years ago," he told Pakistan Forward. "Now the whereabouts of these terrorists is sketchy, but they must be brought to justice."
Justice "must prevail" despite the passage of time, he said. "The only way is to hunt these terrorists down and award them exemplary punishment."
"The state must devise an effective strategy to arrest, try and punish the wanted terrorists," Mehmand said, adding that there is no other way to shatter the terrorist networks but to bring them to justice.
Sharing information on Pakistan's most wanted terrorists is helpful in two ways, said Akhtar Amin, a scholar at the University of Peshawar's Institute of Peace and Conflict Studies.
First, the list helps law enforcement agencies actively go after them, and second, the general public is coming forward to give information and helping the state, he said.
"The head money for these terrorists is of great importance in tracing these terrorists and bringing them to justice," he told Pakistan Forward. "It is vital not only in the restoration of confidence among the people, but the arrest and punishment of these wanted terror mongers will go a long way in purging the region of the extremist and terrorist mindset."