PESHAWAR -- Pakistan has taken special security measures ahead of the holy month of Muharram to ensure Ashura, when Shia Muslims observe the death of Imam Hussain, grandson of Prophet Mohammad, occurs peacefully.
Security has been enhanced all over the country, especially in sensitive districts of Khyber Pakhtunkhwa (KP), Punjab, Sindh and Balochistan provinces, according to police officials.
KP Inspector General of Police (IGP) Salahuddin Khan Mehsud September 11 chaired a meeting of all regional police officers as well as of heads of various security and intelligence agencies to review the security arrangements made by their respective forces.
"All the officers are directed to ensure live electronic monitoring of the Muharram processions as well as to properly search the routes and worship places ahead of an event," Mehsud told Pakistan Forward.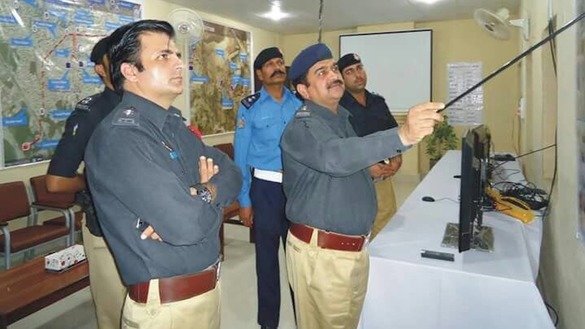 Senior officers have been directed to include all stakeholders, including religious and business leaders, to ensure sectarian and religious harmony during and after Ashura, he said.
"The security arrangements will be checked through the Special Branch [of the police], and any action will be taken against any district police officer for any negligence," Mehsud said.
Peshawar, Hangu, Kohat and Dera Ismail Khan are considered the most sensitive districts, where troops and police officers are already inspecting procession routes and worship places.
KP Police are expecting 119 processions and 316 majalis (Muharram gatherings) during the month.
Citizens co-operating with police
Police are holding meetings with Sunni and Shia religious scholars, trade leaders and elected representatives in Peshawar almost daily to keep the community updated on security measures.
During a meeting with senior police officers at Malik Saad Shaheed Police Lines on September 13, trade leaders expressed their complete support of security forces during Ashura.
Many trade centres will remain closed as part of measures to ensure security during the Muharram processions.
"Due to the sensitivity of the situation, most of the trade centres in inner Peshawar will remain closed from the 6th to 10th of Muharram," Abdul Majid, a trader in Kohati Bazaar, Peshawar, told Pakistan Forward.
"Religious scholars and leaders of the trade bodies have expressed all kinds of support to the police in taking security measures," Senior Superintendent of Police (SSP) Operations Peshawar Sajjad Khan told Pakistan Forward.
In addition, security forces took action to round up suspects before they could create any law-and-order problem during Muharram, he said.
"We have already accelerated search-and-strike operations in urban, suburban and rural areas of Peshawar," Khan said. "During only two weeks, 828 proclaimed offenders [wanted fugitives] were arrested."
"During the actions to ensure peace during Muharram, 13 hand grenades, explosive powder, 19 rocket shells, 52 AK-47's and 41 other rifles, 30 shotguns and 385 pistols were recovered," he said.
Apart from deployment of heavy police contingents, plainclothesmen and female police commandos will be deployed on the routes of processions as well as in and around imambargahs, he said.
A special command-and-control centre will be set up at Kohati Gate to monitor security throughout Peshawar.
"Apart from search and strike operations, police commandos conducted special mock exercises throughout the district to review security of vulnerable places," Raza Mohammad, a deputy superintendent of police in Kohat, told Pakistan Forward.
Enhanced security in Sindh, Punjab
In Sindh Province, Chief Minister Syed Murad Ali Shah presided over a meeting September 15 to review the security plan worked out by Pakistan Rangers and Sindh Police for Muharram, The Nation reported.
Eight thousand Rangers will be deployed in Karachi from the first of Muharram, Rangers Director General Maj. Gen. Mohammad Saeed told Shah.
The province has 1,932 imambargahs, and authorities expect 5,662 Ashura processions -- 405 considered to be "most sensitive", Sindh IGP A.D. Khawaja told the meeting.
Security also has been beefed up across Punjab. In Rawalpindi alone, 3,765 majalis and 727 processions are scheduled for the first 10 days of Muharram.
Punjab IGP Asif Nawaz Khan on September 15 directed police to divide the processions and gatherings into two categories.
Category A includes the most vulnerable locations, with a history of clashes between sects, while locations in Category B are those with a chance of a clashes or law-and-order situations, he said according to Dawn.
Khan directed plainclothes police to be on the lookout for wanted terror suspects and asked that they visit all religious gatherings and processions to ensure terror suspects are not present.
Muharram, the first month of the lunar calendar, is expected to start Thursday (September 21).