ISLAMABAD -- Pakistan Monday (August 14) celebrated 70 years of independence, as the military's top officials vowed to wipe out terrorists days after a deadly blast.
Celebrations began at the stroke of midnight with fireworks displays in major cities.
At the highly symbolic Wagah border crossing with India, Pakistani Chief of Army Staff Gen. Qamar Javed Bajwa raised a massive national flag on a 400-foot-high pole as crowds chanted patriotic slogans.
Bajwa said the country was making progress and promised to "go after each and every terrorist in Pakistan".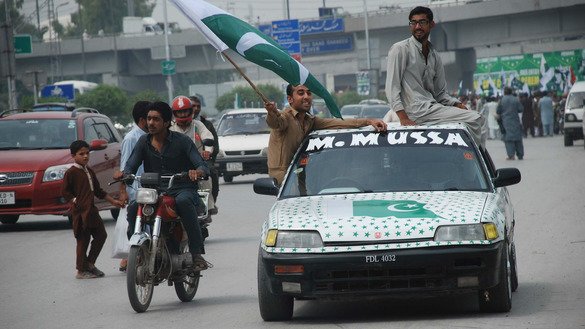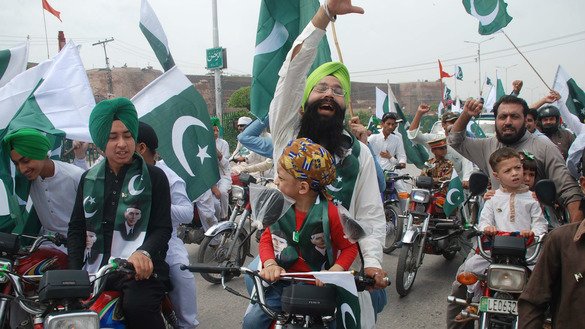 "We have made a few mistakes in the past, but we are on the road to development under the guidance of our constitution," he said.
Choosing unity in the face of terrorism
On Monday, Pakistanis showed they would not be deterred from celebrating with a renewed spirit, zeal and confidence in the nation's future.
In Islamabad, the day began with a 21-gun salute and special prayers were offered in mosques for peace, sovereignty and solemnity for Pakistan.
President Mamnoon Hussain called on Pakistanis to unite.
"Let us join hands for the development and prosperity of the motherland by keeping aside our differences," he said in a statement. "Let us promote love and harmony by overcoming hatred and misgivings and secure the future of our nation by turning despondency into hope to celebrate freedom in its true sense."
Khyber Pakhtunkhwa (KP) Governor Iqbal Zafar Jhagra echoed the president's call for unity, saying it would be the "best tribute to the heroes of the freedom movement and those who sacrificed for a better future for ... the nation".
"The day reminds us of the innumerable sacrifices offered by Muslims of South Asia for achieving their cherished goal of independence," he said.
The Sikh community in Islamabad also held a rally in connection with Independence Day. Dancing to the beat of drums, Sikhs expressed love for the country by chanting slogans like "Pakistan Zindabad" and "Pakistan Paindabad".
In Karachi, the day began with a changing of the guard at the mausoleum of Pakistan's founder, Mohammad Ali Jinnah, where politicians and military commanders laid floral wreaths.
On Sunday (August 13), a special "Azadi Train" left Peshawar as part of Independence Day celebrations. It will traverse through several cities in Pakistan before reaching its final destination in Karachi August 25.
The train consists of five art galleries and six floats with pictures of martyrs of the independence movement.
Bazaars, streets and minor alleyways have been packed with stalls and kiosks selling patriotic goods for weeks, and thousands of Pakistani flags have been fluttering atop houses, government buildings and on cars and motorcycles.
Overcoming terrorism, fear
"Our whole nation became panic-stricken due to the looming threat of militancy [and] the ruthless manifestation of terrorism in the country," said Arshad Khan, in charge of security at Chacha Younas Park in Peshawar.
"Fear and uncertainty overtook the people of Khyber Pakhtunkhwa, forcing them to abandon recreational and outdoor activities," he told Pakistan Forward, adding that for a time "the situation became grimmer with each passing day".
Now that fear and desperation are dissipating, he said.
"The accomplishments of security forces in Operation Zarb-e-Azb, Radd-ul-Fasaad and Khyber-IV have once again rebuilt confidence among the public, which is again celebrating national events with full enthusiasm and energy like in the past," he said.
"Celebration and jubilation throughout the nation ... are proof that the effects of militancy are fading from people's minds," he said.
Khan said there was a "significant increase" in visitors to the park over the week leading up to Independence Day.
"Nothing could be more satisfying than seeing our countrymen celebrating their Independence Day," he said, calling it "a beacon of hope for a nation".
"National unity ... also conveys the strength of our resolve for peace and the intensity of our defiance of the enemies of the country," he said.
Celebrating with freedom and joy
"After witnessing an atmosphere of uncertainty, we are celebrating Independence Day in a welcoming and encouraging environment," said Wajaht Fareed, a Peshawar 10th-grade student who planned to celebrate with his uncle at Kund Park near Nowshera.
"Previously, it was impossible for us to freely celebrate national events because of bad security," he said. "But the gains of security forces against insurgents have provided us chances to celebrate these events in a befitting way."
"Independence Day is an occasion that demands of the nation to shun differences and unite for a common cause," he said.
The participation of all Pakistanis in Independence Day celebrations shows that the nation is united and remembers the sacrifices of its forefathers, said Ashfaq Awan, a shop owner in Dabgari Bazaar, an area in Peshawar with a large population of Sikhs and Hindus.
"I have sold various [Independence Day merchandise] at my small stall worth Rs. 40,000 ($380), which is almost double compared to the previous year," he told Pakistan Forward.
"Not only Muslims, but Sikhs, Hindus and Christians are participating in the 70th Independence Day, which [demonstrates] their love of the land in which they live," he said.
The participation of minority members in celebrations "reflects their confidence in the overall security situation in the country," he said.
In August 1947 the British Raj was dismantled with the subcontinent becoming two independent states -- Hindu-majority India and Muslim-majority Pakistan.