PESHAWAR -- Feeling fearless and jubilant with the retreat of the Taliban from the Federally Administered Tribal Areas (FATA) and Khyber Pakhtunkhwa (KP), Pakistanis have begun celebrating Independence Day well ahead of August 14.
This jubilation and desire to show patriotism result from the widespread return of peace, said Muhammad Ubaidullah, a teacher of Pakistan studies at the University of Peshawar.
"Before the military campaign against the insurgents, militants were active all over the country, and as a result the public stayed home instead of celebrating," he told Pakistan Forward, referring to Operation Zarb-e-Azb launched in June 2014 and the follow-up Operation Radd-ul-Fasaad launched last February.
"It is evidence of the public's enthusiasm that young and old have come out on roads with national flags on top of their vehicles and motorbikes," he said. "They're telling the miscreants that they are living in a sovereign country that has emerged from militancy [thanks to the efforts of the] Pakistani army," he said.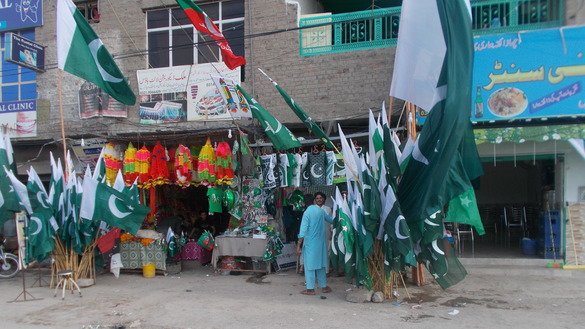 Celebrating freedom from terror
Saud Khan, a high school student from Miranshah, North Waziristan, said that residents of his hometown are jubilant over the coming festivities.
"Our people are sick of militancy," he told Pakistan Forward. "They want to show their joy on the disappearance of militants who made their lives terrible."
"Militants wanted to deprive us of the freedom that the tireless struggle of our forefathers gave us," he said. "They failed."
North Waziristan was thick with militants until Operation Zarb-e-Azb evicted them, much to the population's pleasure, Khan said.
"Militants kept us hostage," he said. "We had no freedom, and we had to live according to the Taliban's agenda."
"Now we are justifiably celebrating Independence Day," he added.
Residents of Parachinar, Kurram Agency, have made elaborate preparations to celebrate, said local resident Shafqat Hussain.
"We have been the worst-hit by militancy, but we are undeterred by terrorism and are ready to face terrorists," he told Pakistan Forward.
"The upcoming Independence Day celebrations will challenge those who wanted to divide Parachinar on ethnic or on sectarian lines," he said.
Peshawar is awash in colour, with shops that sell Independence Day paraphernalia doing roaring business.
"We have been selling national flags, caps and badges [adorned with flags] to customers who want to celebrate Independence Day," Muhammad Junaid, a flag seller on University Road, told Pakistan Forward. "Sales are thriving as the date nears."
"In normal circumstances, we see national flags only on government buildings, but now they are visible everywhere," he added.
Protecting Pakistan's future
Prolonged militancy has strengthened public resolve against terrorism and the people are united to defend their homeland, said Farooq Shah, a resident of Tank District.
Such unity "is an indication of increasing patriotism", he told Pakistan Forward. "It gives a clear message to our enemies."
"We are concerned about the future of our nation," he said. "We will make every sacrifice to protect our country."
The nation's founder, Muhammad Ali Jinnah, "struggled for Pakistan's independence", he said. "We are obliged to work for peace and to foil the nefarious designs of militants."
"We'll thwart any attempt to harm our country, and we'll protect its frontiers," he vowed.