QUETTA -- Militants have been stepping up attacks against civilians and soft targets in Balochistan, particularly the Shia Hazara community, in an attempt to create sectarian discord and insecurity, officials say.
But Pakistan's security forces and intelligence agencies are fighting back.
"The militants associated with banned organisations want to create insecurity in Balochistan, but the goal of spreading sectarian violence and terrorism will never be accomplished," Ali Haider Durrani, a senior intelligence official in Quetta, told Pakistan Forward.
"Terrorists want to destroy the country's peace via Balochistan," he said, adding that sectarian terrorism is detrimental to Pakistan's goal of peace.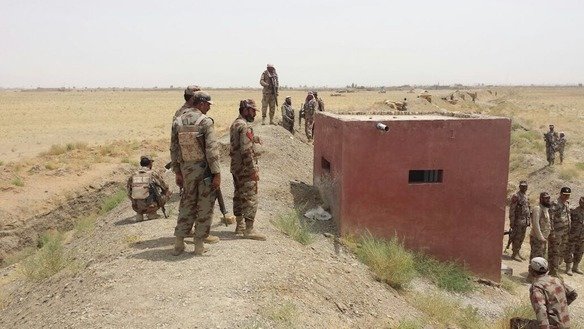 Unable to fight Pakistan's security forces, the "Pakistani Taliban and their shadow militant groups" are trying to reemerge in the province by hitting soft targets, including sectarian killings, he said.
"Security forces are taking appropriate steps to counter the militancy of banned groups and their facilitators," Durrani said.
"So far 13 major [military operations] and 208 intelligence based operations have been conducted in Balochistan since February 22," he said, referring to the start of military Operation Radd-ul-Fasaad. "A large number of militants have been killed and a huge quantity of arms and ammunition seized from the hideouts of militants."
"Maintaining peace and stability is the primary goal of the state," he said. "The on-going strike against militants will continue until the elimination of the last militant."
Dismantling terror networks
"We are in a state of war, and the enemy is sponsoring a proxy game in our region," said Abdullah Omar, an intelligence official in the counter terrorism wing based in Quetta.
"Attacks on Hazara community members are also part of a conspiracy against our national peace," he told Pakistan Forward.
"The command and control system of militant groups in Balochistan has largely been abolished in on-going search and strike operations in the province," he said. "A very limited number of militants remain in our region, and now they are mainly dependent on suicide attacks."
Some militant groups involved in sectarian killings are making efforts to communicate with the "Islamic State of Iraq and Syria" (ISIS) Khorasan branch so they can join forces in establishing a ISIS foothold in Balochistan, he said.
"A connection between militant groups proves that some militant groups have common goals; therefore, they remain involved in several high profile co-ordinated attacks," Omar said, adding that security forces will ensure their networks fail.
"Intelligence agencies are on track to smash the entire support system for foreign funded terror networks," he said.
The resolve of security forces and intelligence agencies "shows that like in other parts of the country, the government will not tolerate terrorism in Balochistan in any form", said Muhammad Nadeem, a Quetta-based security analyst.
"Foreign terrorist networks have become more active than ever to [try to] create lawlessness in restive Balochistan," he told Pakistan Forward.
Now more than ever it is important to build trust between law enforcement agencies and the public, he said.
"It is very important to evaluate the realities on the ground in Balochistan to handle the sectarian conflict," he said. "The hideouts of militants in residential areas cannot be abolished without public support."
Tightening border security
Pakistan must take more steps to secure its borders with Afghanistan and other neighbours to foil militant plots, said Islamabad-based defence analyst Gen. (ret.) Talat Masood.
"Though Pakistan has already developed a comprehensive border management system, the changing dynamics require more concrete steps to strengthen all the crossing points along the Pakistan-Afghanistan border," he told Pakistan Forward.
"The performance of all state institutions in the eradication of militancy is not as efficient as required," he said. "Terrorists have changed their strategy; that's why they are changing their targets. It is very important to destroy the network of extremist groups and their foreign contacts."
"Some local extremist organisations are using the ISIS name to achieve their goals," he said.
"Military operations alone are not enough to defeat ideological and political battles," he added. "Home-grown militancy is the biggest threat to national security, and I think the National Action Plan [enacted in January 2015] is the best strategy to handle such threats."