PESHAWAR -- The water mill, known locally as a "jranda", employs an ancient mode of grinding wheat, corn, millet and other grains to produce flour.
Jrandas have been around for centuries and are still being used in Khyber Pakhtunkhwa (KP) and other parts of Pakistan, despite the advent of modern technology in grist mills.
Those who know the quality of jranda-produced flour prefer it over flour ground in modern mills, said Hazrat Ali, 50, the operator of a jranda on Warsak Road in Peshawar.
"This is why the jranda has survived; otherwise, it would have withered away because of the onslaught of technology," he told Pakistan Forward.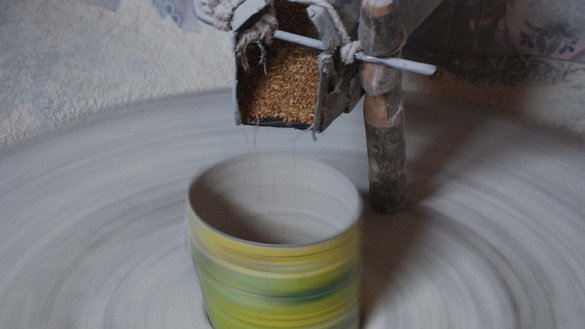 Ali's family has been milling flour the traditional way for about a century. He inherited his father's business.
The jranda is operated by flowing water diverted from a river or stream. The force of water flow drives the blades of a turbine. It rotates an axle that drives the crushing stone.
The passage of water is controlled by sluice gates that allow for maintenance and control of the speed of the grinding stones.
This historic way of grinding wheat and other grains is considered a symbol of the rich cultural history of the region, Ali said.
While the mechanics have not changed for centuries, some things have.
All water mills are property of the KP Irrigation Department, which leases them to successful bidders on a yearly basis, Ali said.
"When I started the business, the annual lease of our water mill was Rs. 12,000 ($120)," he said. "This year I bid Rs. 150,000 ($1,500) for the lease."