PESHAWAR -- Reeling from recent deadly terrorist bombings, residents of Parachinar, Kurram Agency, say they are undeterred and vow to pursue peace.
Two back-to-back explosions hit busy Turi Market June 23 as customers shopped for Eid ul Fitr. The attack, claimed by Lashkar-e-Jhangvi (LeJ), killed at least 72 people, according to local news reports.
Prior to that, a Taliban car bomb tore through another market in the city on March 31, killing at least 22 people, and on January 21 terrorists targeted a vegetable market, taking at least 24 lives.
Parachinar resident Shaukat Hussain, 30, told Pakistan Forward about the horrors he witnessed in the aftermath of the latest attack.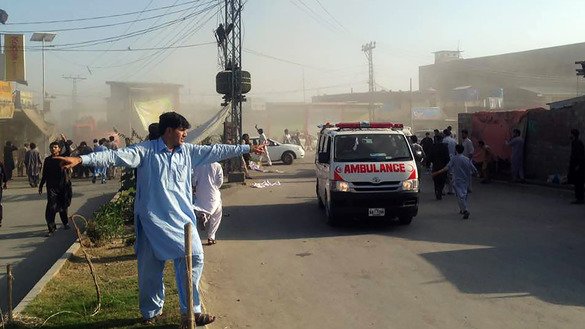 "I saw blood-stained and mutilated bodies scattered all over the place," he said. "When I rushed towards the site of [the first] blast, within minutes another very powerful explosion shook the entire marketplace."
Lying on a bed in Lady Reading Hospital (LRH) in Peshawar with bandaged feet, Shaukat said terrorists will never find a foothold in Parachinar, which has a large Shia community. Representatives of all schools of thought in Parachinar stand united against those trying to exacerbate sectarian divisions, he said.
Shaukat, a schoolteacher who was in the market to buy medicine for his mother, called the attack an act of cowardice.
"Terrorists are under the misconception that they can frighten the public, [but] resistance to terrorism has increased sharply," he said, adding that extremists cannot force the population into submission.
An unshakable unity
Parachinar residents rejected militancy in the past and are ready to do it again, said Shakir Hussain, Shaukat's brother.
"An unshakeable unity among the population is a solid defence that will foil any attempts at terrorism," he told Pakistan Forward.
The public is on alert and ready to thwart conspiracies to shed innocents' blood, he said.
After the Turi Market blast, residents staged a sit-in for eight days near the bomb site to convey a message of unity against terrorism.
In response to the protestors, Pakistani Chief of Army Staff Gen. Qamar Javed Bajwa visited the headquarters of upper Kurram Agency June 30 and announced additional security measures for Parachinar, including the launch of the Safe City Project.
Rejecting sectarianism
There is complete unity among Shia and Sunni Muslims in Parachinar and the terrorists cannot break it, said Rizwan Ali, a Parachinar resident who studies at the University of Peshawar.
"About 40 [Shia] injured from the attacks were treated by Sunni health professionals in Peshawar," he told Pakistan Forward, citing hospital sources. "The blood transfused to 21 patients came from Sunni, which is a vivid illustration of unity."
Peshawar residents not only donated blood but served homemade meals to hospitalised survivors, said LRH Director Dr. Khalid Masud.
"It is a great spirit," he told Pakistan Forward, adding that local residents gave donations and gifts to the Parachinar patients and their families for Eid ul Fitr.
Rasool Khan, a Shia native of Parachinar who has resided in Peshawar for the past three decades, said he has many Sunni friends.
"We exchange pleasantries and food on Eid and other festivities. We work in the same market," he said.
"Some elements with vested interests want to sever our relations with the Sunni population, but that will never happen," he told Pakistan Forward.
Resisting terrorism
Peshawar-based security analyst Khadim Hussain praised Parachinar residents for their gallantry and strong resistance to terrorists.
"In the past, the Shia population has blocked the entry of [extremists] who wanted to spread terrorism and fear," he told Pakistan Forward.
"Not only Shia, but also Sunni, are sick of militants and want to create a united front to eliminate them once and for all," he said.
The recent attacks will not affect the national will to fight terrorism and work for peace, he said, adding that the public no longer fears confronting terrorists.
Mian Iftikhar Hussain of Peshawar, an Awami National Party leader, visited Parachinar July 4 to express solidarity with bombing victims and their families.
He was overwhelmed by the residents' courage, he said.
"It is a great sign when the people don't fear terrorists and are ready to continue their efforts for lasting peace," he told Pakistan Forward.
"The militants deserve no mercy," he said. "We demand the government launch full-scale action and provide peace of mind to the public."