KARACHI -- A calligraphy exhibition in Karachi is promoting art, peace and harmony through June 30.
"Celebration of Ramadan 2017" opened June 19 "as a treat for art lovers during the holy month of fasting and to promote faith, harmony and peace", said Mehrin Ilahi, CEO of Majmua Art Gallery and chair of the Federation of Pakistan Chambers of Commerce and Industry (FPCCI) Committee on Art and Heritage.
The FPCCI committee and Majmua Art Gallery organised the exhibition in collaboration with the Karachi Metropolitan Corporation.
"We have displayed astounding artworks of about 40 calligraphers from Lahore and Karachi," Ilahi told Pakistan Forward, adding that about 100 works of calligraphy are on display.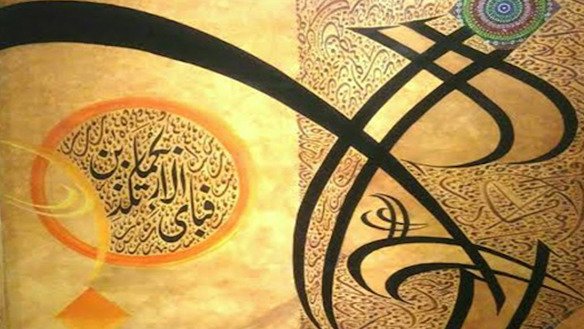 Most of the works are in nastaliq and kufic classic scripts, and some abstracts are on view as well, she said.
Calligraphers involved include Tariq Tonki, Atif Ali, Yasir, Vamiq, Marium, Ruheen A. Malik, Akber, Aisha Bela Malik, Mian Asif, Ayesha Kamal and others.
Attracting more than 200 art lovers
Mehrin inaugurated the exhibition and welcomed more than 200 guests on the opening day.
"Sadequain Hall was full of art lovers, and the inspiring artworks enhanced the ambience of the event," she said.
Calligraphy is a great asset of Muslim artists and should be promoted in Pakistan and other countries, said Amna Ali, CEO of Amna's Creations, an art studio in Karachi.
"Calligraphy needs to be promoted to advocate peace, love and harmony," she told Pakistan Forward.
Members of the FPCCI, Trade Development Authority of Pakistan and Karachi Metropolitan Corporation, as well as social activists, businesswomen, students and other art lovers, participated in the opening session of the exhibition.