PESHAWAR -- Khyber Pakhtunkhwa (KP) Police have beefed up security ahead of Eid ul Fitr to ensure a peaceful and joyous celebration for citizens in Peshawar and throughout the province.
"All officers have been directed to beef up security at the entry points of the city as well as in the main and crowded trade centres on the occasion of Eid ul Fitr," Capital City Police Officer Peshawar Mohammad Tahir told Pakistan Forward.
Officers have orders to ensure security in and around worship places during Eid prayers, he said.
70% decrease in terror attacks
In the final days of Ramadan, enhanced security measures have prevented various acts of terror.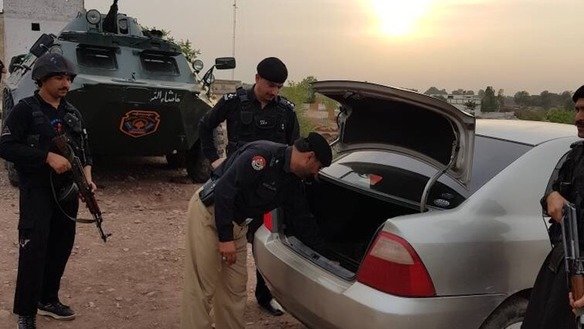 In one such incident, police on June 20 detected and defused a 5kg improvised explosive device (IED) planted on the roadside in Latif Abad, Peshawar.
The culprit or culprits seeded the IED with ball bearings to cause more casualties, said KP Bomb Disposal Unit (BDU) member Zahid Khan.
On June 21, KP Inspector General of Police (IGP) Salahuddin Khan Mehsud visited Qissa Khwani Bazaar and other crowded trade centres of Peshawar to review security arrangements for Eid.
"The situation in the province is far better than in the past with more than a 75% decrease in terrorist attacks," Mehsud told reporters. All regional police officers and district police officers across KP have orders to take extra security measures for the holy festival, he said.
"Police will take all kinds of measures for maintaining peace and expect the public to help the force by providing information about anyone suspicious," he said, adding that police are co-ordinating with all intelligence and security agencies to maintain peace and go after terrorist groups.
Securing entry points, urban centres
Security forces remained on high alert during Ramadan all over Pakistan to ward off militant attacks. Now, as markets buzz with customers shopping for Eid, additional forces are protecting urban areas and trade centres.
"Apart from in urban areas, security has been increased in areas close to Khyber and Mohmand agencies as well as Frontier Region Kohat," Senior Superintendent of Police (SSP) Operations Peshawar Sajjad Khan told Pakistan Forward.
About 3,000 police officers will be on duty in Peshawar to ensure security during Eid ul Fitr and police have cancelled leave for all officers during the holy festival, said Khan.
In the past, militants would come from tribal areas to attack Peshawar during festive occasions, according to police. To prevent such violence this year, police and other security agencies are strengthening posts along entry routes to the KP capital.
"Senior officials of KP Police have been paying regular visits to these remote posts near tribal areas to check the level of alertness and to boost the morale of the officers posted there," said Sajjad Khan the SSP, who attended a June 20 iftar with policemen at the Arbab Tapu check-post in Matani, near the tribal belt.
Additional security measures include the deployment of female commandos in trade centres to keep a check on any suspicious women, and five police officers will be deployed to major mosques during Eid prayers, he said.
Enhanced security measures everywhere
Security has been increased in other parts of Pakistan.
"In Mardan, more police contingents have been deployed in busy trade centres and parks and at worship places for Eid," Mardan District Police Officer Mian Saeed Ahmad told Pakistan Forward.
Police launched a special campaign ahead of Eid to discourage the practice of celebratory firing on the last night of Ramadan that claims several lives every year, he said.
"We have printed pamphlets, addressed gatherings in mosques and public places, and staged rallies [to let people know] that police will never tolerate any kind of aerial firing on Chand Raat," said Ahmad, warning that police will arrest anyone involved in the practice and they will spend their Eid in prison.
Sindh Inspector General of Police A.D. Khawaja also has directed police to undertake a comprehensive security plan for Eid.
"The IGP instructed that foolproof security be ensured for the Eid congregations at open places, parks, mosques and imambargahs as well as at the public places including shopping centres, Eid bachat bazaars, railway stations, bus terminals etc.," APP reported June 20.
Five thousand police officers will protect Quetta during Eid, Balochistan Deputy IGP Abdul Razzaq Cheema told reporters. In addition, workers will install security gates at all major places of worship during Eid prayers.
The Punjab government directed police and other law enforcement agencies to take all measures to maintain peace in Lahore, Rawalpindi and other cities during the holy festival.