PESHAWAR -- Corruption is a scourge on the socio-economic development of Pakistan, and the Anti Corruption Establishment (ACE) of Khyber Pakhtunkhwa (KP) aims to eliminate it, says ACE Director General Zaibullah.
The KP government is carrying out a number of awareness campaigns aimed at educating the public to "Say No To Corruption", he told Pakistan Forward.
Abolishing corruption is a collective responsibility of society, Zaibullah said during an anti-corruption seminar at Iqra National University (INU) in Peshawar May 15.
Wasif Khan, a business administration student at INU, was among the students who attended the seminar.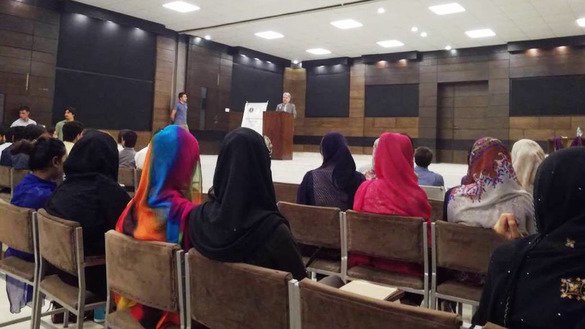 "Officials from the government enlightened the participants on the social, legal and moral implications of corruption," he told Pakistan Forward. "Being citizens of Pakistan, we have a duty to identify loopholes and say a big 'No' to corruption."
ACE, in co-operation with other governmental organisations, has conducted seven awareness programmes at various educational institutions across the province over the past six months, Zaibullah said.
The purpose of these campaigns is to educate KP youth on the evils of corruption, he said.
"Youth are our future," he said, adding that through education youth can promote a corruption-free society.
"We are trying to abolish the evil of corruption from our society by addressing its root causes and educating the youth of our province," he said.
Tackling root causes
Corruption is a curse and a major hurdle to progress, said INU Vice Chancellor Shah Jehan Khan.
"Corruption has been a severe issue [in Pakistan], and all the stakeholders should join hands and make collective efforts to eradicate the menace of corruption from our society," he told Pakistan Forward
"The first cause of corruption in Pakistan is lack of transparency and accountability," said Muhammad Zafar ul Haq, an economics lecturer at INU.
"A major reason for the deficit in our economy is corruption," he told Pakistan Forward, adding that it promotes inequity in society and increases the gap between rich and poor.
"Corruption murders merit," said Raza Ahmad, a researcher and statistician at the University of Peshawar, calling on citizens to speak out against it.
"Most of the time we observe corruption in our society, but we do not bother to report it," he told Pakistan Forward. "Subsequently, all of us fall victim to it."
Taking action
Asalam Nawaz, ACE assistant director and co-ordinator of the anti-corruption awareness programmes, said his organisation has seen remarkable success over the past ten months.
The provincial government has given ACE free rein to eradicate corruption from the province, said Nawaz.
ACE, aided by police and magistrates, has arrested more than 200 provincial government employees, including officials, and recovered Rs. 300 million ($2.8 million) in the past few months, he said.
In the past six months, ACE has arrested 24 officials in various KP provincial government departments in connection with charges of taking bribes, he said.
From May 2016 through April 2017, the KP government registered 3,938 cases of corruption, added Zaibullah. It has reached a decision in 1,112 of those cases and is working on the rest.
Zaibullah urged people to come forward to say 'no' to corruption in all its forms.
"Our department is very serious in fighting corruption and misuse of power," he said.
"It is the responsibility of the public to identify corrupt people," he said, pledging that ACE will "take prompt action against all corrupt elements within our ambit".