PESHAWAR -- Pakistani authorities are taking measures to protect citizens from dubious charities that extort money from the well-intentioned.
The Pakistan Peace Collective (PPC), a non-profit organisation collaborating with the Ministry of Information, has launched a series of awareness programmes aimed at guiding citizens on giving charitable donations.
The PPC's "Haq, Haqdaar Tak" seminars raise awareness about supposed charities that serve as fronts for extremist and terrorist outfits.
Objectives of the programme include developing a public consensus against extremism and terrorism, forging national unity and promoting peace in society.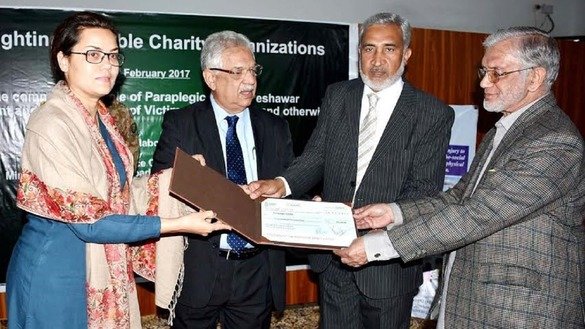 "A majority of our population who are innocent and naïve are often misled by unregistered and unauthorised organisations to extort money," PPC Chief Executive Officer Bushra Taskeen told Pakistan Forward.
"Our research material has revealed that some militant organisations and people of dubious nature extort a considerable amount of the public's hard-earned money on the pretext of charity and service to humanity," she said.
The PPC aims to stop this practice, which has duped both affluent and less affluent citizens who have no idea their charitable donations are funding horrendous activities, she said.
First verify, then donate
The Pakistani public donates Rs. 554 billion ($5.3 billion) annually to various welfare organisations, Taskeen said.
"It is most unfortunate that 30% of donations pass to unverified organisations," she said, adding that the PPC aims to provide the public with information on legitimate charities as well as to raise awareness on citizens' responsibility to keep donations away from extremist and terrorist groups.
"Until and unless each and every citizen of the country is made aware of his [or her] national responsibility to 'first verify and then donate', it will be impossible to achieve the desired results from the efforts," Shabbir Anwar, chief co-ordinator of the PPC, told Pakistan Forward.
"The work of our researchers and consultants [...] also revealed that a considerable portion of the donated money was transferred to unregistered organisations and in some cases invested in personal business schemes," he said.
"The aim of our campaign is to present a clear picture to the public regarding misuse of their donations, highlighting the need to ... differentiate between right and wrong," he said.
As part of the Haq, Haqdaar Tak campaign, the PPC disseminates video documentaries and two-minute radio messages in addition to holding public seminars, he said.
"The issue is serious and challenging and deserves enhanced utilisation of energies and resources," Anwar said.
The Haq, Haqdaar Tak campaign has taken place in Faisalabad, Bahawalpur, Rawalpindi, Hyderabad, Quetta, Karachi, Qallat and Gilgit-Baltistan, enabling Pakistanis from a cross-section of society to participate, he said.
Events take place at district level to ensure maximum participation.
Militants target the uninformed
"After they were banned, many [militant] groups resurfaced as charity organisations to boost their image among the masses as well as to avoid government restrictions," Muhammad Amir Rana, director of the Pak Institute for Peace Studies, wrote in a June 28, 2015, editorial for Dawn.
"This ploy has not only helped them gain social acceptance but also enabled them to expand their support base," he said, adding that militant groups raise 55% to 65% of their funds from local sponsors.
"Some groups collect donations from commercial centres and in door-to-door campaigns, ostensibly for charitable pursuits, but are quite often operating as fundraising organs for militant organisations," he said.
"People respond generously to such drives, especially during Ramadan."
In an attempt to choke off terror financing and to maintain law and order, the Interior Ministry last June banned 60 radical organisations from collecting donations and charity.
While awareness campaigns and legal efforts have had some success, the message is not reaching remote villages, said Khalid Ahmad Dawar, vice chairman of In Search of Justice, a Peshawar-based non-profit social welfare organisation.
"Chances of manipulation are increased when the target is kept ignorant," he told Pakistan Forward, adding that militant groups and unregistered organisations have adopted this strategy.
"The sensitivity of the matter and urgency of the issue demand that such awareness programmes be arranged in all the village and union councils [townships] to educate residents of remote areas," he said.
"The government's initiative [...] deserves appreciation, but we believe that its purview should be increased to each and every corner of the country, in addition to allocation of proper funds," he said.