PESHAWAR -- Pakistani political, religious and military leaders are unanimous in condemning a blast at a vegetable market in Parachinar, Kurram Agency, that killed at least 24 people and injured 90 others Saturday morning (January 21).
Khyber Pakhtunkhwa (KP) Governor Iqbal Zafar Jhagra denounced the attack on innocent civilians and said such acts will not dampen their courage.
"The government will continue its struggle for peace until the elimination of the terrorists," he said while enquiring after the wounded at the Combined Military Hospital (CMH) in Peshawar.
Jhagra announced a compensation package of Rs. 300,000 (US $2,861) for the families of those killed, Rs. 150,000 (US $1,430) for those critically wounded and Rs. 100,000 (US $953) for those who suffered other injuries.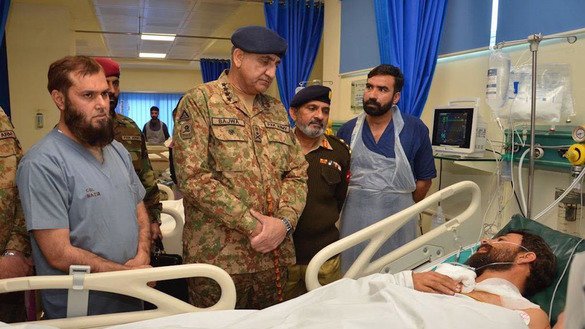 Pools of blood
The bomb went off just before 9am as hundreds of people were buying vegetables at the local market. The initial death toll was reported to be 20 people, almost all of whom were from Kurram Agency.
"Several people died on the spot while others expired at hospital," Sajid Hussain Tori, a National Assembly member from Kurram, told Pakistan Forward, adding that two children were among those killed.
"The number of dead people from the blast is now 24, as four more injured have lost their lives," Naseerullah Khan, an administration official in the region, told AFP, adding that the number of wounded stood at 90.
"Some 33 injured are being treated in the district hospital in Kurram, while 25 have been shifted to a military hospital in Peshawar," he said. "Others with minor injuries have been discharged after first aid."
Video from Saturday showed chaotic scenes with people running and shouting in panic and victims strewn in front of vegetable stalls among smashed crates and pushcarts.
"The blast occurred at the peak of business when hundreds were busy buying and selling," eyewitness Hamid Hussain told Pakistan Forward.
He recalled hearing a huge explosion and when the dust settled seeing people lying in a pool of blood near crates of tomatoes and turnips.
A mass funeral prayer for the initial victims of the blast took place Saturday afternoon at the main imambargh in Parachinar.
2 militant groups claim credit
An improvised explosive device (IED) hidden in a vegetable box, possibly originating from a market in Kohat, was detonated by remote control, officials said.
However, one of the two militant outfits that claimed responsibility called it a suicide attack.
A spokesperson for Tehreek-e-Taliban Pakistan (TTP) released the picture of apparently a teenager, identified as Saifullah, who he claimed had carried out the attack.
In a text message sent to journalists, Lashkar-e-Jhangvi al-Alami claimed that it, along with the TTP Shehryar Mehsud splinter group, carried out the attack, Dawn reported. However, the Shehryar Mehsud group did not independently claim the bombing.
Meanwhile, the Hakimullah Mehsud faction of TTP claimed responsibility for the attack, citing revenge and references to the war in Syria.
7 suspects arrested
Police arrested seven suspects in Parachinar Sunday, Assistant Kurram Political Agent Shahid Ali Khan told journalists. He did not reveal the identities or whereabouts of the suspects, but said they are undergoing interrogation.
The remains of unidentified persons at the blast site have been sent to Islamabad for DNA testing, he added. Police also collected nuts and bolts from the blast site.
A forensic team arrived from Kohat and examined the scene of the attack, Dawn reported. They said the bomb contained 12kg of explosives.
The blast was the first major terrorist attack in the Federally Administered Tribal Areas (FATA) this year. Terrorists have hit the area several times in recent years.
In December 2015 an IED at the same market killed at least 23 people.
Pakistanis will not be divided
Pakistani leaders and ordinary citizens were unanimous in denouncing the bombing, which shattered a long spell of relative peace in FATA .
The government should work harder to banish sectarianism and terrorism, Zahid Ali, a student from Kurram Agency, told Pakistan Forward.
"A number of Kurram Agency residents staged a demonstration outside the Peshawar Press Club January 22 to protest the Parachinar blast and past attacks in the area," he said.
"All peace-loving people strongly condemn the blast in Parachinar that was carried out by the enemies of Pakistan," said Pakistan Ulema Council Chairman Allama Tahir Ashrafi.
Terrorists focusing on soft targets and killing civilians is further proof of their slide towards defeat, he said.
"Followers of all religious schools of thought are united in condemning this brutal act of terrorism and share the grief of the victims," he said according to local media reports.
Terrorists are lashing out against civilians "in frustration", Awami National Party chief Asfandyar Wali Khan said.
He urged the government to take more steps for durable peace in FATA and in the rest of the country.
"Terrorists will fail in their attempt to regain [their] lost relevance," Chief of Army Staff Gen. Qamar Javed Bajwa said Saturday after the blast, according to a statement issued by Inter-Services Public Relations (ISPR).
Visiting local hospitals and meeting with tribal elders, Bajwa lauded their support in combating terrorism and acknowledged their sacrifices for peace, the statement said.
With their support, the army, Frontier Corps and other law enforcement agencies have done a great job in stabilising the area, he said, adding that terrorists will fail to derail that success.
"Pakistan belongs to all of us without any religious, provincial, tribal, linguistic, ethnic, sectarian or any other discrimination," he said.