PESHAWAR -- The opening of the first rabab academy in the city of Peshawar is a sign of the return of peace and restoration of normality after years of militancy, musicians and music lovers say.
The rabab is a lute-like instrument carved from a single piece of wood. It has a short neck and many strings that can be plucked or played with a bow.
Gulab Khel Afridi, a maestro rabab player, opened the Gulab Rabab Academy in the Cantonment area of Peshawar on November 13.
In May and June 2011, militants hit the area with two deadly bombs.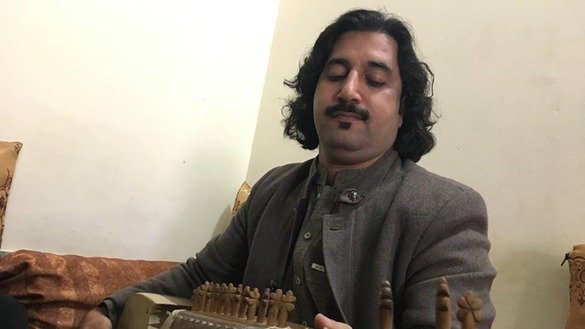 "I wanted to launch the musical academy earlier in 2013 but failed because of the wave of terrorism [at the time]," Gulab told Pakistan Forward. "Now the prevailing extremist-free environment permitted me to open the academy for rabab lovers."
Security operations nationwide, including Operation Zarb-e-Azb, which began in North Waziristan in June 2014 and continues today , paved the way for such progress in security.
The academy will teach students the techniques of playing the rabab and harmonium, a hand-pumped reed organ, and singing in the traditional Pashtu style.
"Rabab is the king of local traditional musical instruments," Peshawar composer Nazeer Gul Ustad told Pakistan Forward.
Gulab, who performed at the opening ceremony, will teach harmonium and singing.
Military operations in the tribal areas broke the backbone of militants, enabling the opening of the academy, said Khadim Hussain, a Peshawar-based security analyst and author of three books on militancy.
"Music, beauty and fine arts are symbols of a balanced life and a normal human being who believes in humanity, friendship and interaction with everyone," he told Pakistan Forward.
People are naturally attracted to fine arts and culture, while extremists "force others to follow them", he said.
"Though the security forces defeated the militants and destroyed their networks, we have to fight against the mindset of extremism for a durable peace," Hussain said.
Spreading music, pride in Pakistan
Gulab, born in 1977 in Peshawar, began his musical career at the age of 12 by learning harmonium, but his spiritual guide advised him to learn to play the rabab.
He has performed with popular Urdu and Pashtu singers in Khyber Pakhtunkhwa and the Federally Administered Tribal Areas (FATA), as well as in Lahore, Karachi, Quetta, Islamabad and Multan.
"I have had the honour of performing in front of former presidents Pervez Musharraf and Asif Ali Zardari and former prime minister Yousuf Raza Gilani," Gulab said. "Last year, I performed in front of 14 heads of Islamic states in Turkmenistan."
Representing Pakistan in more than 20 countries, Gulab said he wants to convey message of peace at the international level.
"As a Pakistani, I feel proud when I represent my beloved country through music in other countries," he said. "We are a peaceful nation and hate terrorism."
Gulab said he is teaching rabab to more than 100 students, including local residents, some of whom are women, and foreigners.
For aspiring rabab players abroad or far away, he teaches online.
Chun Badshah, 32, who runs a general store in Peshawar, recently enrolled in the Gulab Rabab Academy.
"Music has been my passion since I was a student," he told Pakistan Forward. "Now, thanks to Gulab Rabab Academy, I have the opportunity to properly attend classes of rabab playing."
"Music not only softens hearts and discourages bad company but also provides satisfaction and happiness," he said.
Muqdam Ali, 26, a science teacher in Nowshera District, is also learning to play rabab.
"I come from Nowshera once a week to attend rabab class," he told Pakistan Forward. "I love my culture, and rabab is a part of it; that's why I am learning the techniques of rabab playing."
Returning to peace
Pashtu singer Gulzar Alam welcomed the opening of the rabab academy, recalling Gulab's first attempt in 2013.
"After a short span of time, he was forced to close the academy by a local extremist religious organisation," he told Pakistan Forward.
Gulzar said he also suffered professionally between 2002 and 2015 because of militant intimidation of musicians and the terrorism-forced closure for years of Nishtar Hall, a cultural and performing arts centre in Peshawar.
In 2008, the Taliban even attacked two of Gulzar's musicians in Swat, rabab player Muhabbat Khan and harmonium player Anwer Gul. Muhabbat was killed on the spot; Gul died later from his injuries.
Gulzar received threatening letters, forcing him to flee to Quetta and Kabul for a period, he said.
"Now, because of successful operations carried out against militants, the law-and-order situation is satisfactory," Gulzar said, adding that he hopes to open an academy for music research and the preservation of music culture.
"Music is a symbol of peace, beauty, love and rich culture and gives birth to gentleness, happiness and positive thinking," he said.
Pakistan has been a land of peace, hospitality and rich culture for hundreds of years, said Nasir Ali Syed, a Peshawar poet and intellectual.
"Terrorism was imposed on our region, which killed thousands of innocent people and affected every segment of our society, including music and culture," he told Pakistan Forward. "Now our region is coming back to peace."